There's something magical about getting on a ferry and sailing away on an adventure. A trip to Mull & Iona is just that. Easily accessible from the mainland, yet also a world away from the hustle of busy family life. Mull has 300 miles of coastline, hills, woodland walks and offshore islands to explore, while Iona's unique atmosphere makes for a special visit. Here are our picks of the top things to do with children on Mull and Iona to ensure your family trip is an unforgettable one.
Indoor Things to Do with Children on Mull and Iona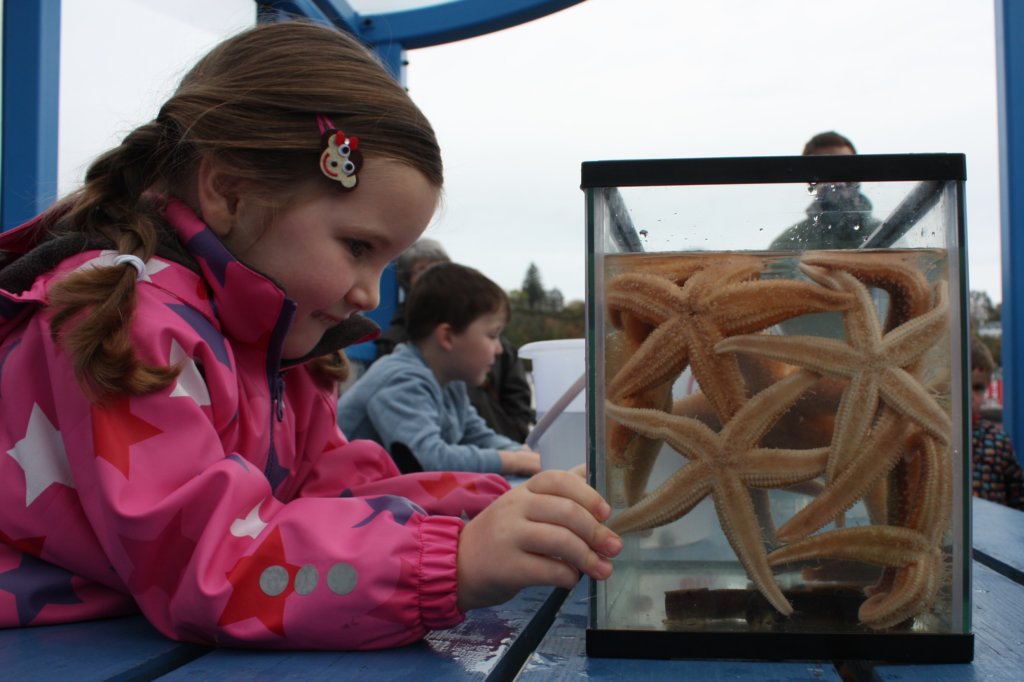 Mull AquariumEurope's first 'catch and release aquarium', Mull Aquarium hosts local sea creatures for up to a month before returning them to the seas surrounding the island. The Aquarium is a great hands-on experience with regular touch pool talks, 3D sandpit and a wide range of events throughout the year. Why not have a go at crabbing at Tobermory beach and see what you can add to their tanks (fill your nets with bacon, crabs love it!).
The Quest
Explore Visit Mull and Iona's The Quest, a fun family adventure challenge where you explore the islands with our fun clue based map. Today our islands are a peaceful and welcoming haven for local residents and visitors alike, but this was not always the case! In days gone by adventurers, warriors, saints and explorers came to Mull, Iona and our surrounding islands in search of new land to conquer and settle on, to bring their ideas to and in search of treasure. Each visitor was on a quest to discover our islands – and now it's your turn to do the same! The map is available for £5 per family online and at various locations on Mull and Iona. Find out more here.
Fun on the Farm
Sgriob-Ruadh farm, just outside Tobermory, is home of the world-famous Isle of Mull Cheddar. The Reade family have been farming here for 40 years and offer guided tours around the farm to explain the cheese-making process. Their Glass Barn provides light meals and home baking. You can pick up beef, pork and homemade chutneys and sauces from their honesty shop.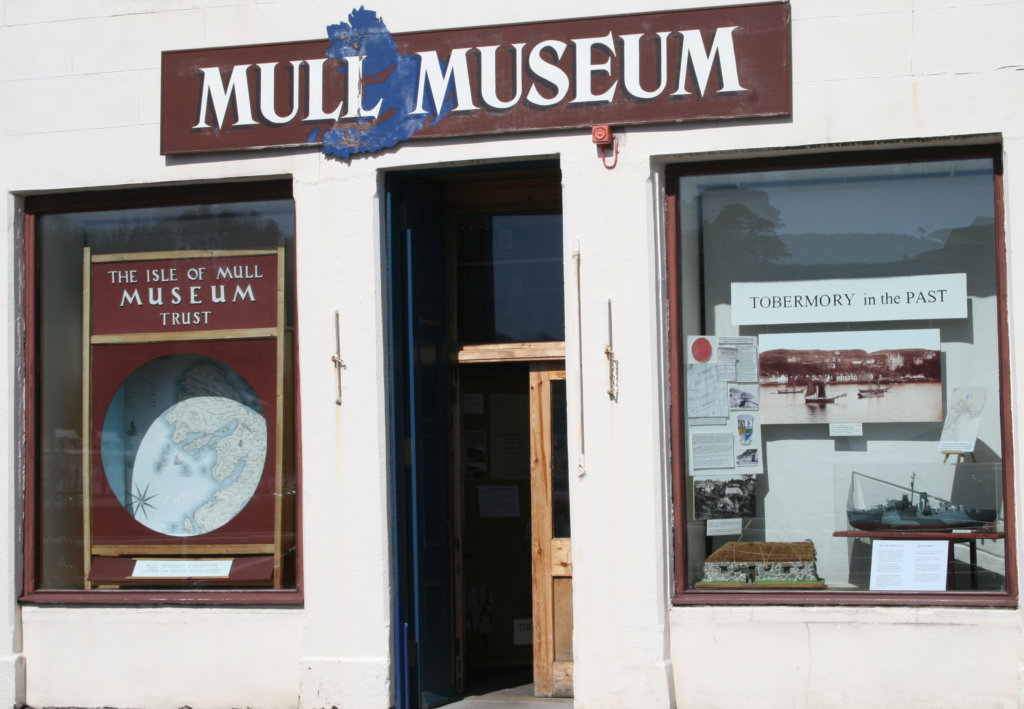 Mull Museum
Mull Museum, on Tobermory's Main Street, holds a wealth of information on the islands' past and is a great retreat on a wet day. There's a children's quiz, and finding the dinosaur poo exhibit is always a winner with some younger visitors.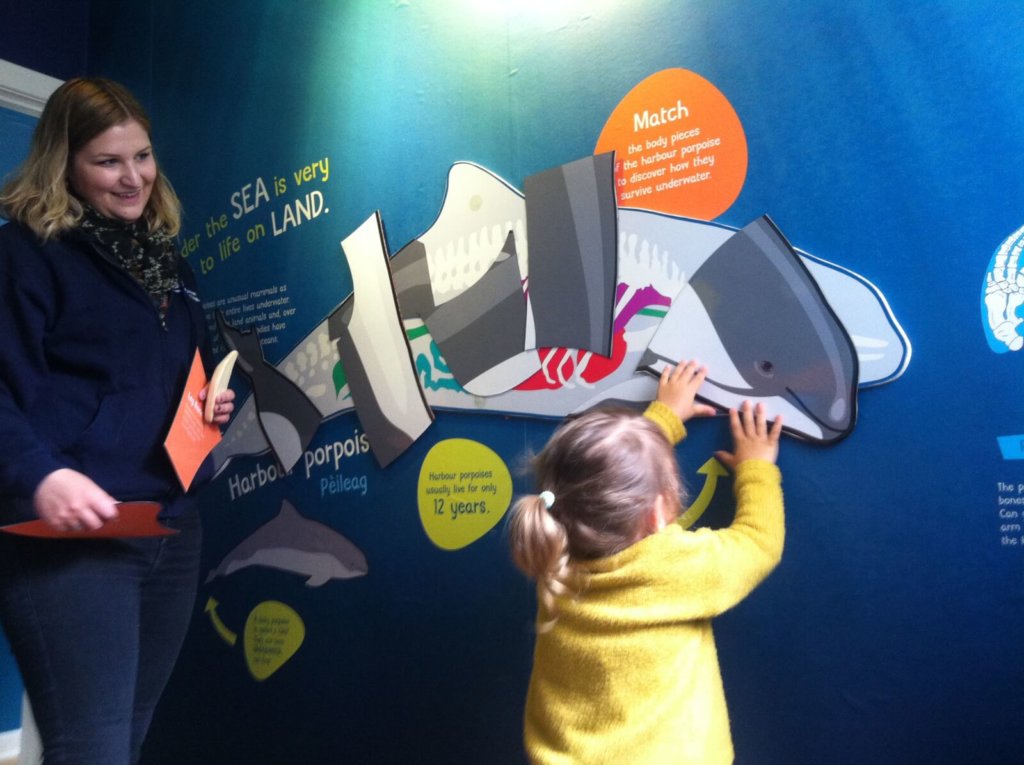 HWDT Escape Room
The Hebridean Whale & Dolphin Trust (HWDT) has been pioneering the conservation of whales, dolphins and porpoises for 25 years. Their educational discovery centre is well worth popping into on Tobermory's Main Street, which has hands-on exhibits, daily talks and occasional events for children. A brilliant wet weather all-family activity is their new Escape Room – can you outwit the pirates and beat the clock to solve the clues to escape from the cave? Ask in the Discovery Centre for more details.
Duart Castle
Over 700 years old, Duart Castle dominates the headland as you sail into Craignure Bay from Oban. Home of the Clan MacLean, the castle has seen its fair share of battles and troubles throughout the centuries. From the dungeons, through the Great Hall, to the rooftops, there are lots to explore. For a flavour of local culture, the Mull & Iona Pipe Band, young Highland dancers and the Mull Gaelic Choir perform most Sundays throughout the season. The adjacent tearoom has an excellent menu of local produce and dedicated children's menu, and there are several short walks around the headland.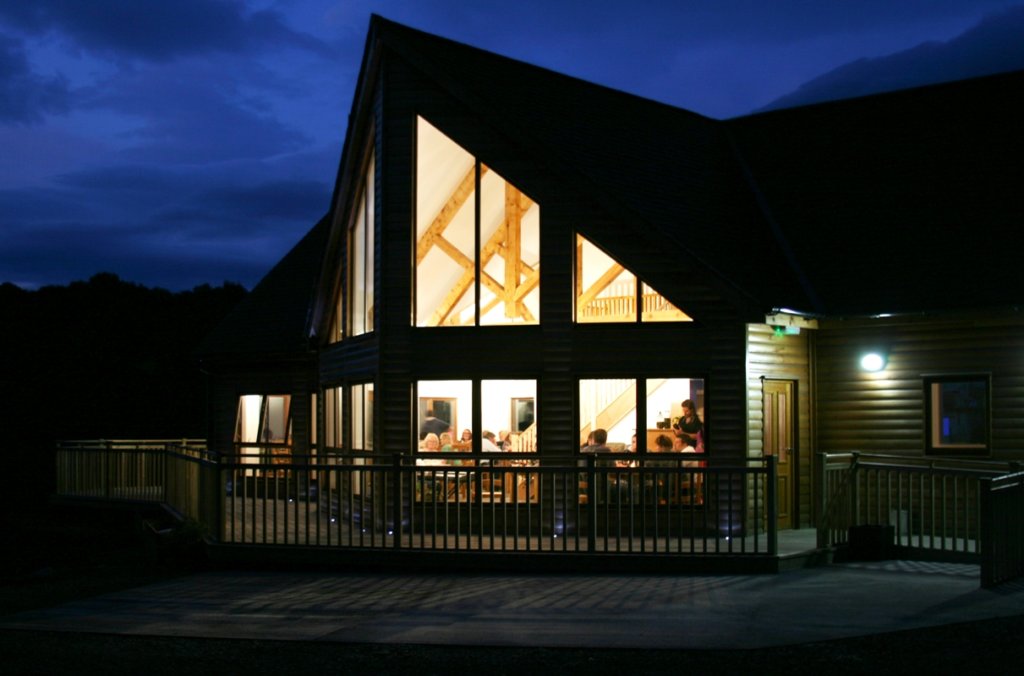 Food & Drink
Our islands are a foodie's paradise, and there is plenty on offer for younger diners. Most eateries offer children's or half-sized portions, and children are welcome in pubs until 8 pm. Top recommendations include Am Birlinn, the perfect place to stop after a day at Calgary. MacGochans is great for pub grub. The Creel seafood shack by the pier in Fionnphort has amazingly fresh seafood. And the Glenforsa Hotel, where you might be lucky enough to spot a light aircraft come and go on the adjacent airfield. In Tobermory, don't miss Isle of Mull Ice Cream, made from local milk, Tobermory Chocolate's handmade goodies and An Tobar vegetarian café with the best view in town.
Outdoor Things to Do with Children on Mull and Iona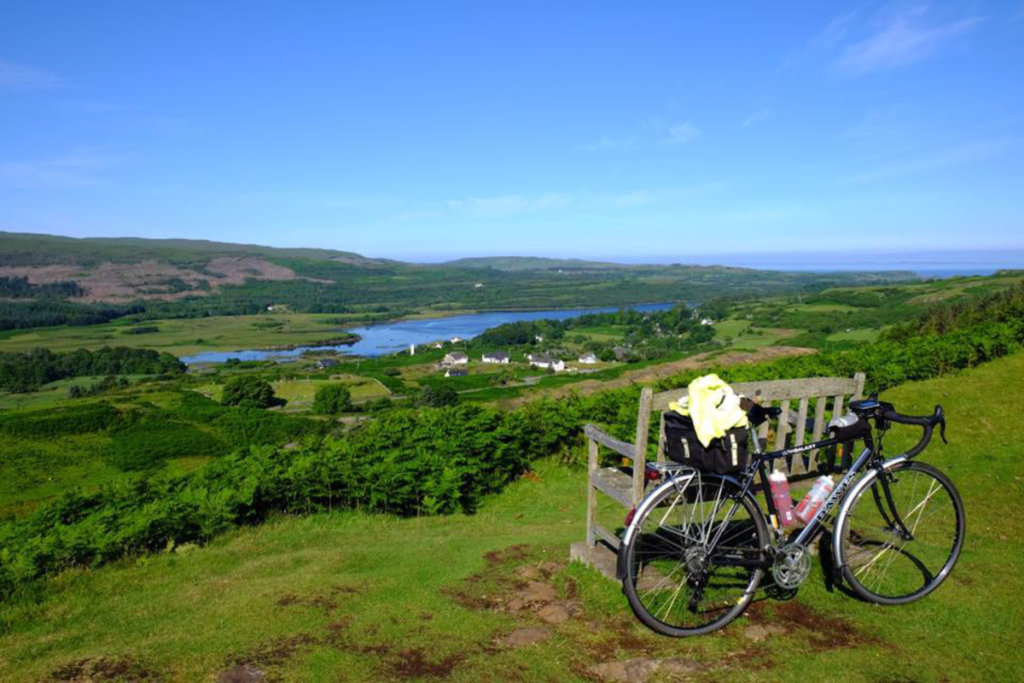 Walking and Cycling
There are plenty of outdoor things to do with children on Mull and Iona! Don't let Mull's hills put you off getting out on foot or by bike. There are many excellent, safe forestry tracks around the island, which are perfect for all ages and abilities. Local walking guides by Brown & Whittaker Publishing have several books with inspiration for great walks from quick strolls to all-day hikes. Bike hire is available in Tobermory from Cycle Mull, who have kids' bikes and trailers, as well as electric bikes which make tackling those hills a bit easier!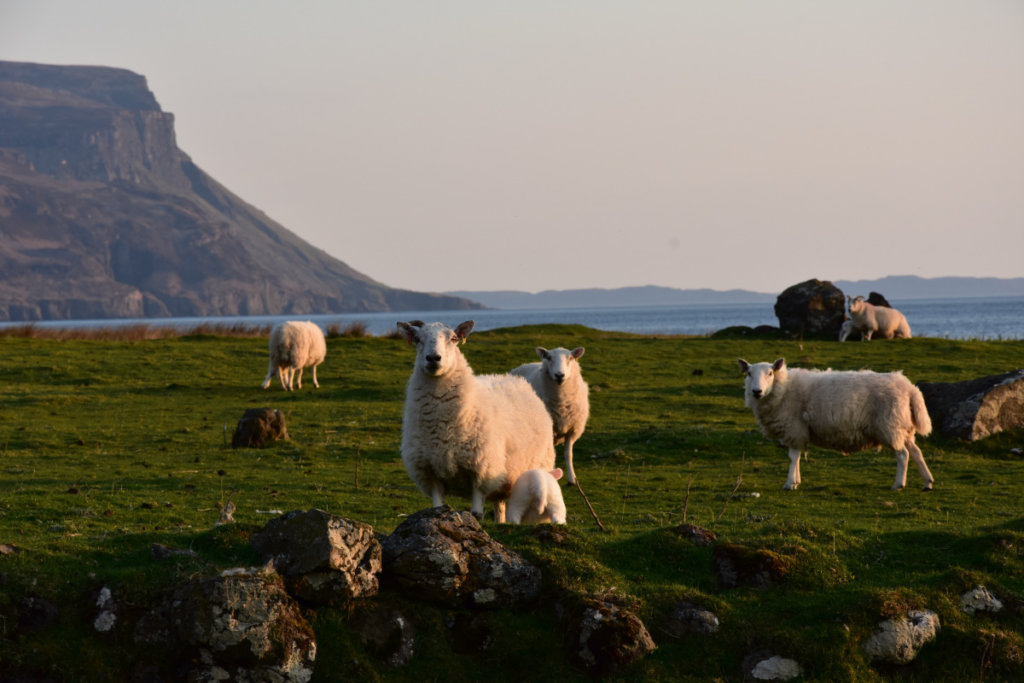 A Day out West
Mull's dramatic west coast is well worth spending a day exploring. From the dramatic Gribun Rocks and bathing pools at the foot of Ben More, drive along the Loch na Keal shoreline, keeping an eye out for otters, eagles and deer. Head north to Lip na Cloiche Garden, which is great fun to explore. Stop off at the Hen House for cakes and the biggest meringues on the island. At Ulva Ferry, take the short ferry crossing over to the Isle of Ulva. Make sure you stop at the Boathouse for fabulous seafood and home baking. Take in the views of Ben More while the kids guddle about on the shore and rocks.
Staffa & the Treshnish Isles
For older children or those used to being at sea, a boat trip makes a fantastic day out. From May to August puffins come ashore to nest in burrows on the offshore islands of Staffa and Lunga. Extremely tame, they are a joy to watch (from a safe and respectful distance). Later in the season is a great time to spot both common and grey seals. Don't miss Staffa's unique geological pillars and infamous Fingal's Cave! You can visit the islands with several tour operators who depart from Tobermory, Ulva Ferry Fionnphort and Iona.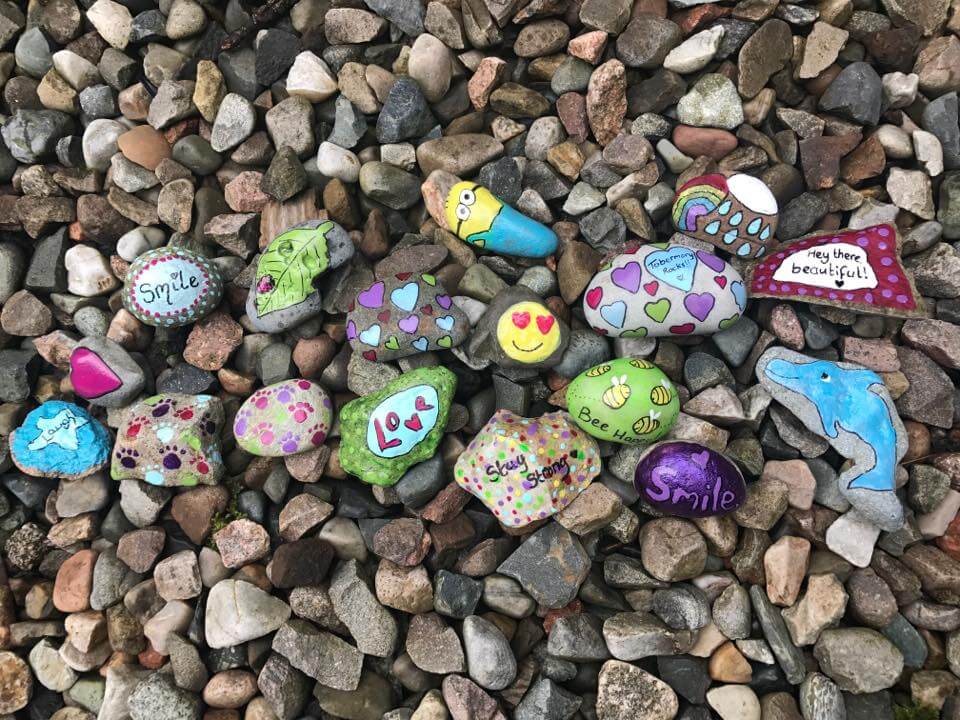 Tobermory Rocks
Look out for painted rocks hidden in and around Tobermory. If you find one, post a photo in the dedicated Facebook group and choose whether to keep it, rehide it locally, or take it home. Tobermory Rocks have made their way to Sydney, Australia and even the Antarctic!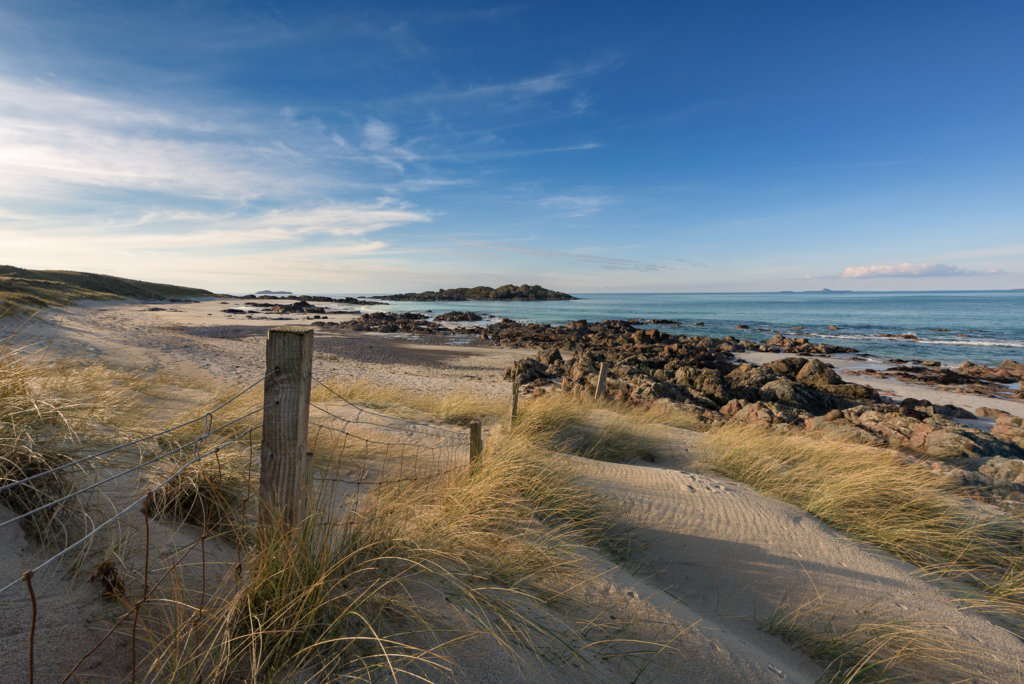 Head for the Beach
Looking for things to do with children on Mull and Iona on a sunny day? We have some of the most spectacular white beaches in the Hebrides. Even on busy days they never feel crowded. Pack a picnic, wetsuits and nets for a fun day out exploring, rock pooling. In the Ross of Mull, Ardalanish and Uisken are an easy short walk for younger children. While a visit to Knockvologan at low tide allows you to walk over the vast expanse of sand to Erraid. In the north, as well as Calgary, Traigh na Cille at Torloisk is renowned for its black sands. Port na Ba is a lovely sheltered beach about a 1-mile walk from Croig pier. Look out for the painted stones hidden in the dunes! Uisken, Fidden, Martyrs Bay and Calgary beaches are all particularly safe for swimming for those willing to brave the Atlantic water.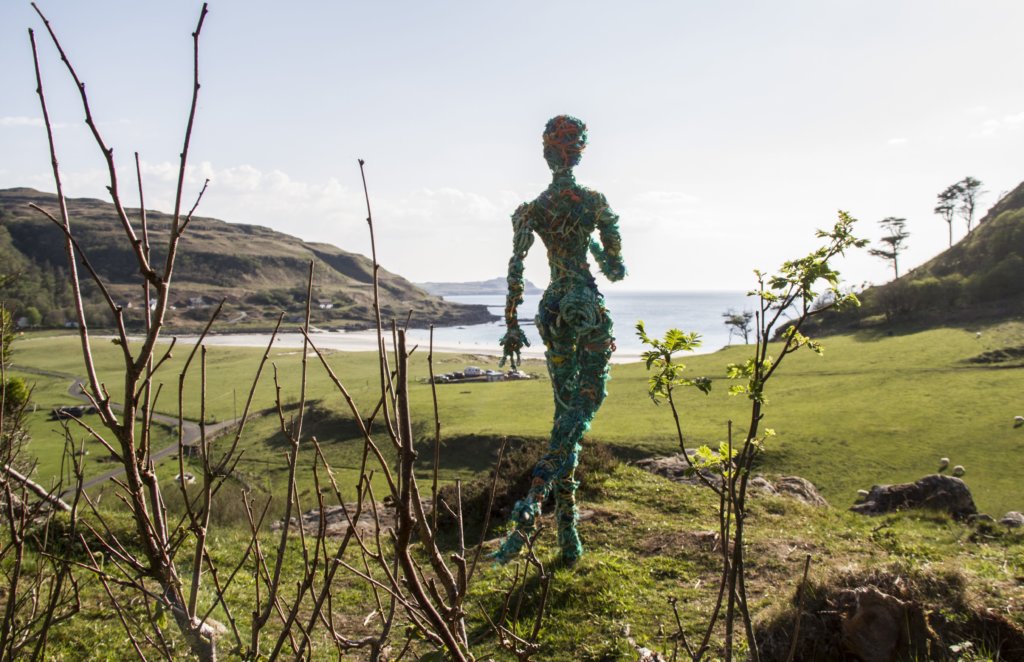 Calgary Arts
Follow the art trail through the woods at Calgary Café and Art Gallery and enjoy fantastic views across the bay and famous beach from the top of the hill. There's a brilliant zip wire for the brave! Can you spot the basking shark, willow hut and fairy door hidden in the woods? At the end of the walk head to Robin's Boat for some Isle of Mull ice cream and enjoy the expanse of golden sand.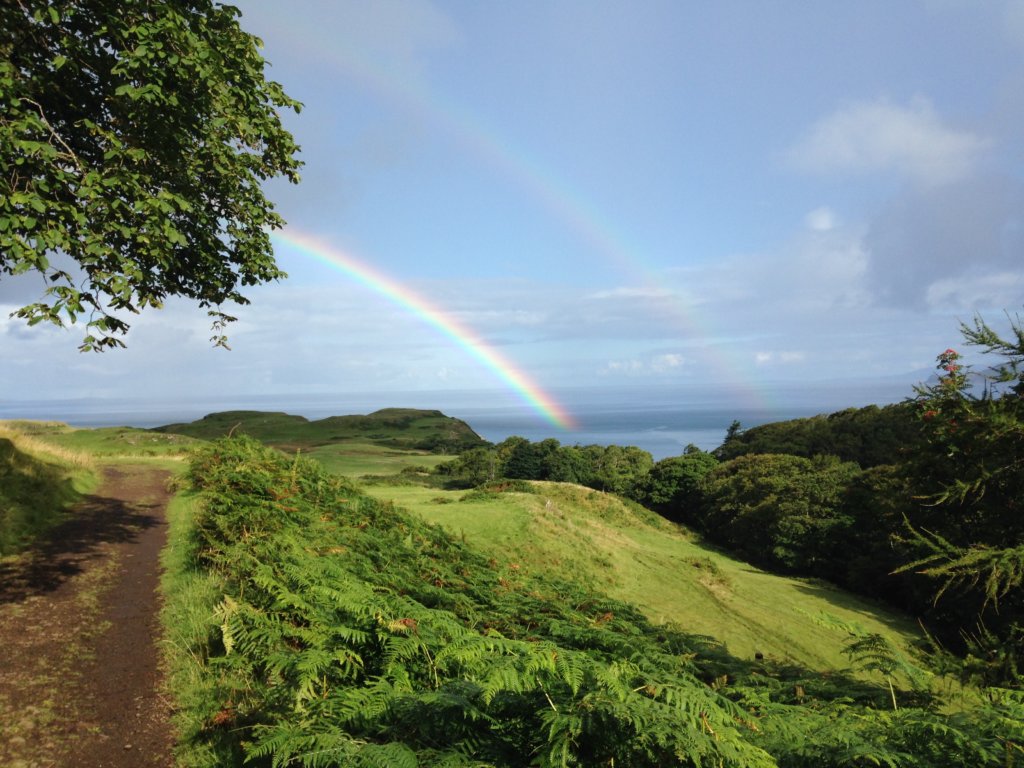 Glengorm Estate
Just a few miles outside Tobermory the Glengorm Wildlife Project's nature lab lets kids find out more about the local wildlife and has regular hands-on workshops. Glengorm is an excellent spot for a walk and picnic. Spot minke whales from the headland. White-tailed sea eagles circle overhead. And the Estate's friendly Highlands cows are never far away. The Coffee Shop makes a great stop for lunch or cake, with most produce on the menu sourced from the Estate's farm and market garden.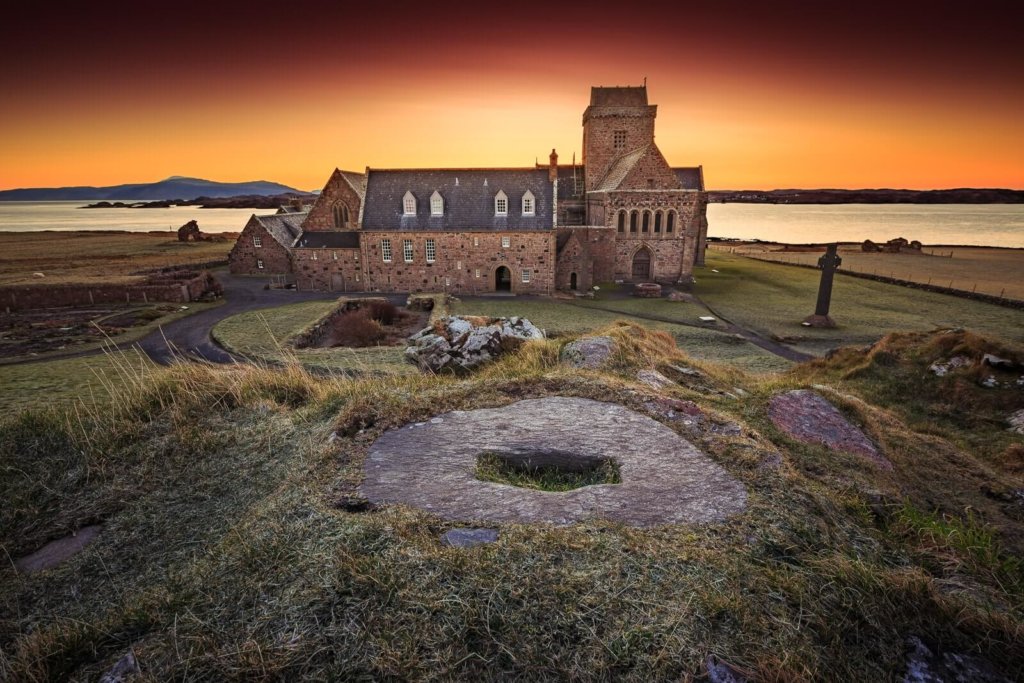 Iona
Don't miss a trip to Iona. At only 3 miles long and with few vehicles, it's a great place to take bikes to explore. Famous as the 'cradle of Christianity' Iona's historical and religious significance is the island's main draw. Also, take the time to get off the beaten track to the Bay at the Back of the Ocean. Listen out for the elusive corncrake, which migrates from Africa to nest here each spring. Staying overnight on the island is extra special. Iona glamping pods are a great family accommodation option. All the fun of camping with a bit of luxury, including electricity and cooking equipment.
Killiechronan Pony Trekking
Offering beach and hill treks on Shetland ponies for young novices and longer hacks on sturdy Highland ponies for more experienced riders. Killiechronan Pony Trekking in the Loch na Keal National Scenic Area. The views and wildlife spotting opportunities from horseback are breath-taking.
We hope that helped inspire your holiday with things to do with children on Mull and Iona! Plan the rest of your trip with more things to do, where to stay, where to eat, and where to shop.