Numerous captivating islands lie off the west coast of Mull; few are inhabited but several can be visited and all are home to fascinating wildlife.
Check out our Offshore Islands region video for some of the highlights:
All along the coast there are breathtaking views to sea, including to the Treshnish isles and the geological wonder of Burg, with the backdrop of Ben More always visible on the horizon.
Sea-watching often brings great rewards, with minke whales, dolphins and basking sharks spotted out to sea and otters and seals nearer the coast.
Inland, at the head of Loch a'Chumhainn, is the picturesque planned village of Dervaig, with its famous church, which still looks very similar to when it was built in 1799.   With forests on either side, Dervaig is a popular base for walkers, cyclists and wildlife watchers who take advantage of a network of paths through the woodlands that often connect to coastal areas, with wonderful views.
From Dervaig it is a 6 mile drive west to Calgary Bay with its wide sweep of sand and intense blue waters.
Continuing south, a wild coastal trail overlooking Loch Tuath includes an ancient church at Kilninian, a fascinating garden and seafood restaurant at Ballygown and Eos fors – a series of picturesque waterfalls. This is also where to access the isles of Ulva and Gometra, take boat trips from Ulva ferry, or perhaps try pony trekking at Killiechronan on beautiful Loch Na Keal.
The whole of the north west of Mull is a rich habitat for rare birdlife including white-tailed and sea eagles, hen harriers and over 60 other bird species.
Discover things to see and do and where to eat on the Offshore Islands: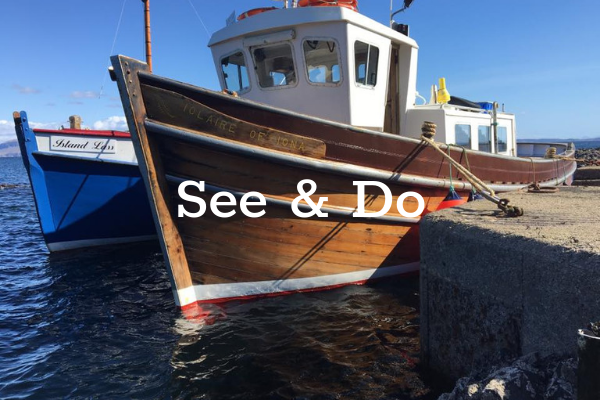 SaveSave