If you are keen on wild swimming in Scotland, Mull and Iona should definitely be on your list. There is no doubt the water is chilly. Nevertheless, once you glimpse those white shell-sand beaches which stretch for miles, with the alluring turquoise sea, you'll be glad you packed your swimming gear.
Wild Swimming on the Ross of Mull
---
Some of the most popular spots for wild swimming on Mull are in the south-west, in the Ross of Mull. Any coastal area will offer chances to get in the water but here are the safest and most accessible spots.
1. Fidden Beach, Ross of Mull
Wade in the many sheltered shallow inlets at Fidden. A vast stretch of sand peppered with rocky outcrops. This area is popular with seals. So, you might find yourself wild swimming with the resident colony!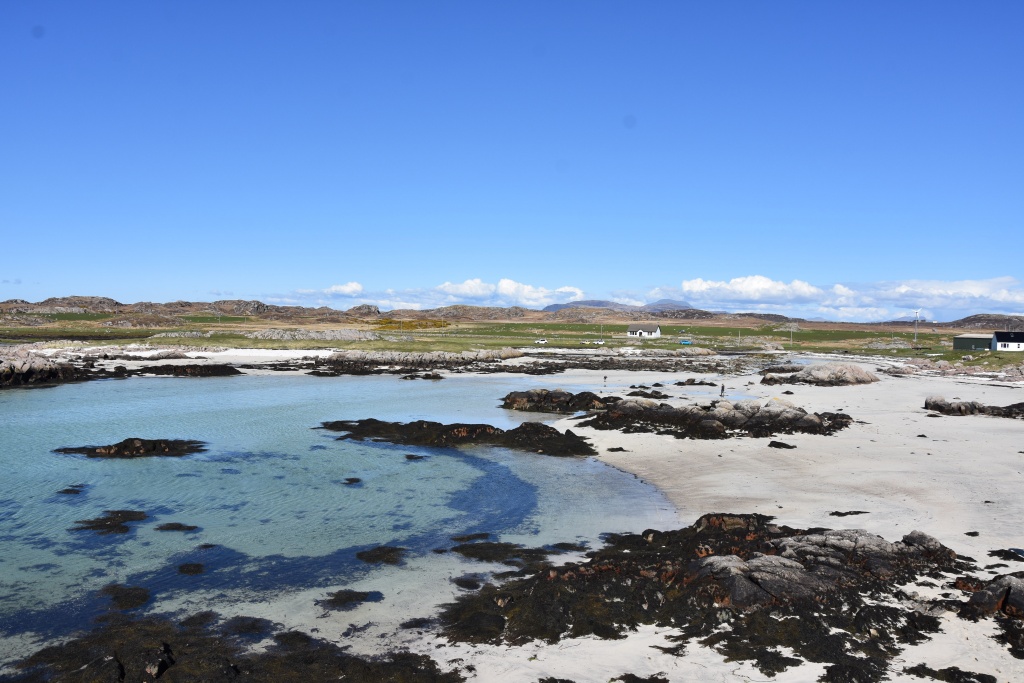 2. Uisken Beach, Ross of Mull
Similarly, Uisken Beach is a lovely, sheltered sandy beach with small offshore islands to explore.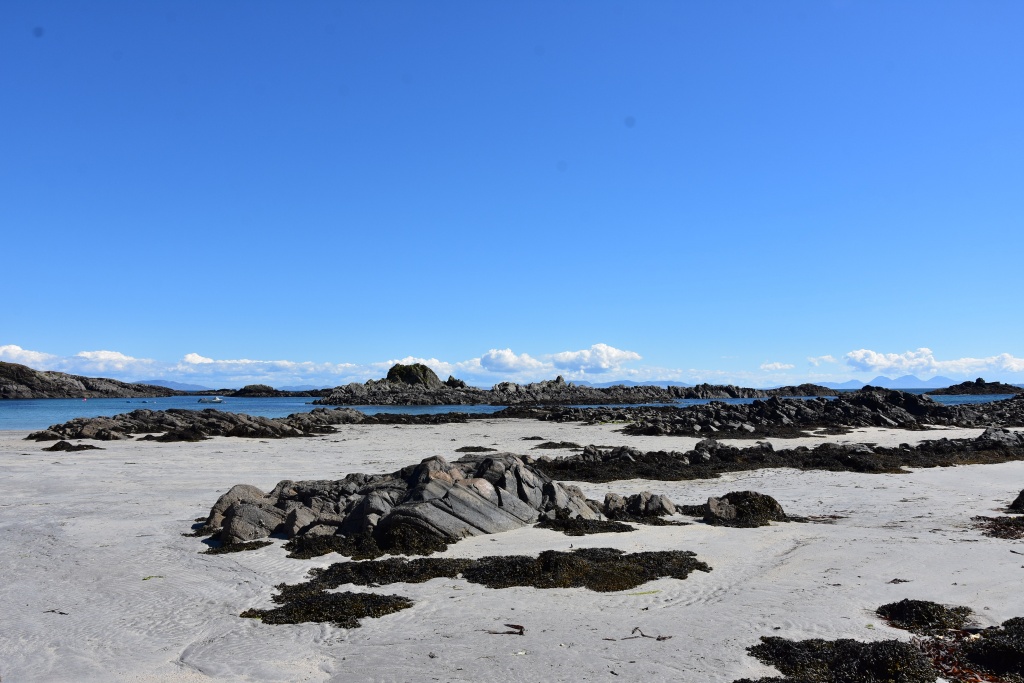 3. Ardanalish Beach, Ross of Mull
A vast horseshoe stretch of sand, fringed by machair in the summer. Ardalanish Bay is open, often with big waves breaking on the shore. There are lovely views out to the islands of the Southern Hebrides.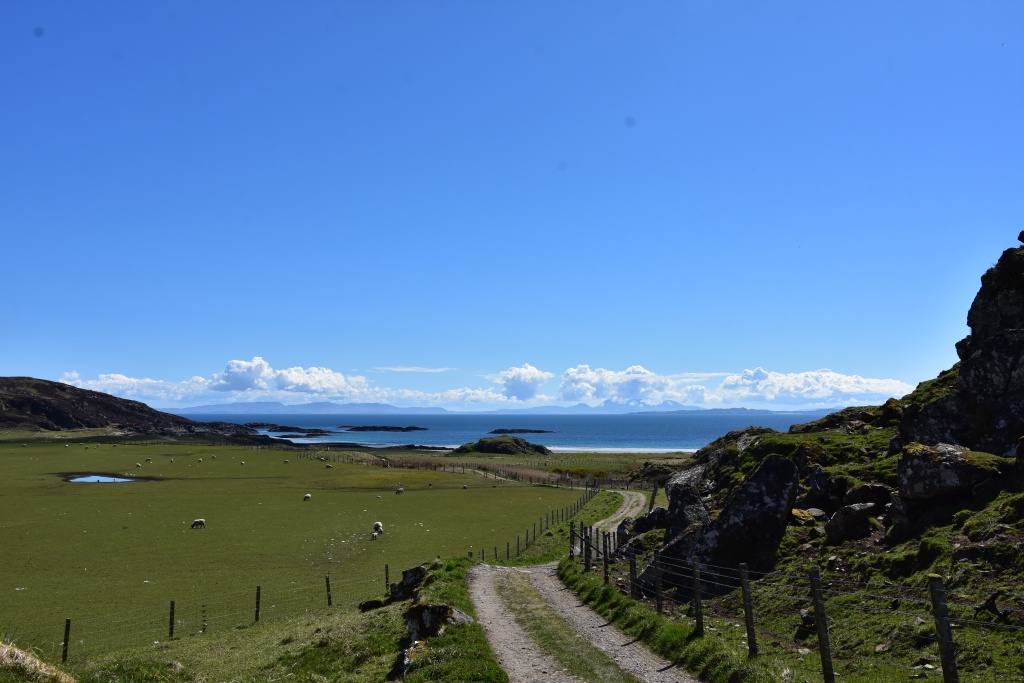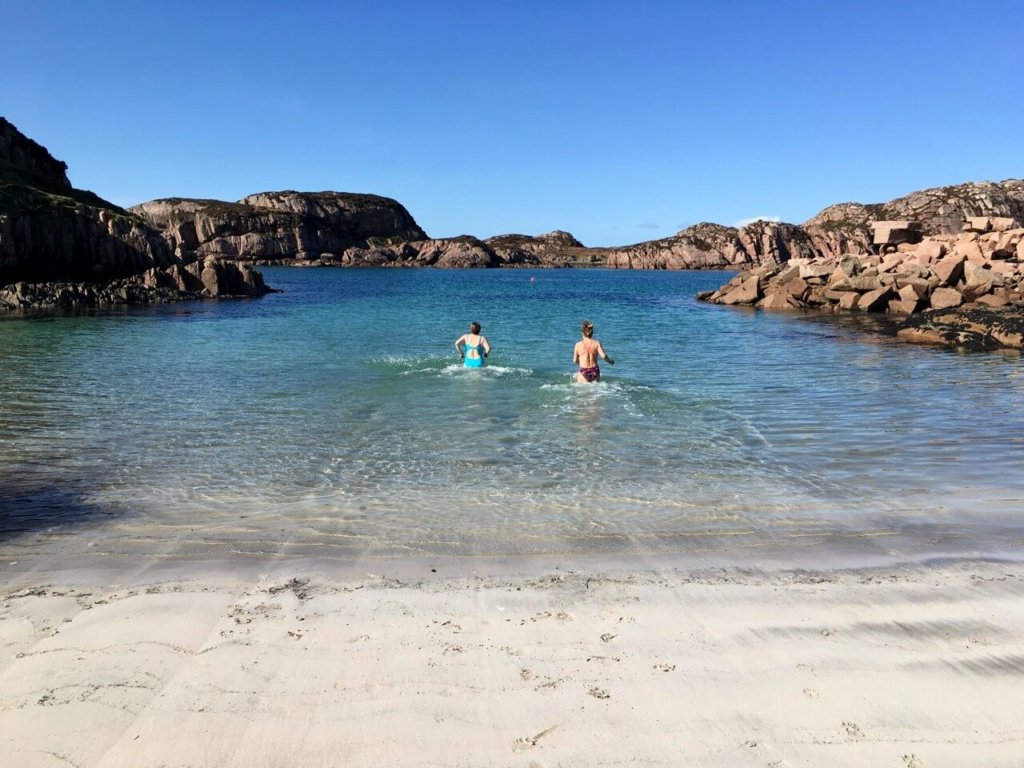 Wild Swimming on Iona
---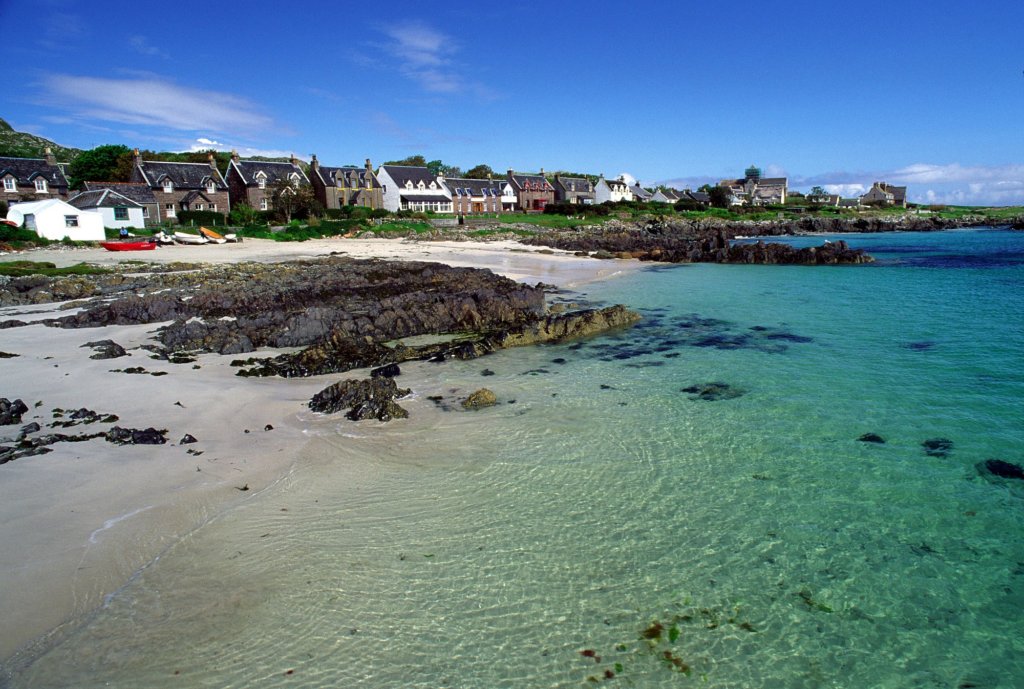 One of the most beautiful places to go wild swimming in Scotland. The Isle of Iona is a small island with a choice of beautiful beaches with crystal clear waters. However, there are no visitor cars allowed on the Island, so a walk is required.
1. St Ronan's Bay, Iona
St Ronan's Bay is the nearest beach to the ferry. It has a white sandy sea bed stretching out into the Sound of Iona. A twenty-minute walk across the Island takes you to more beautiful beaches.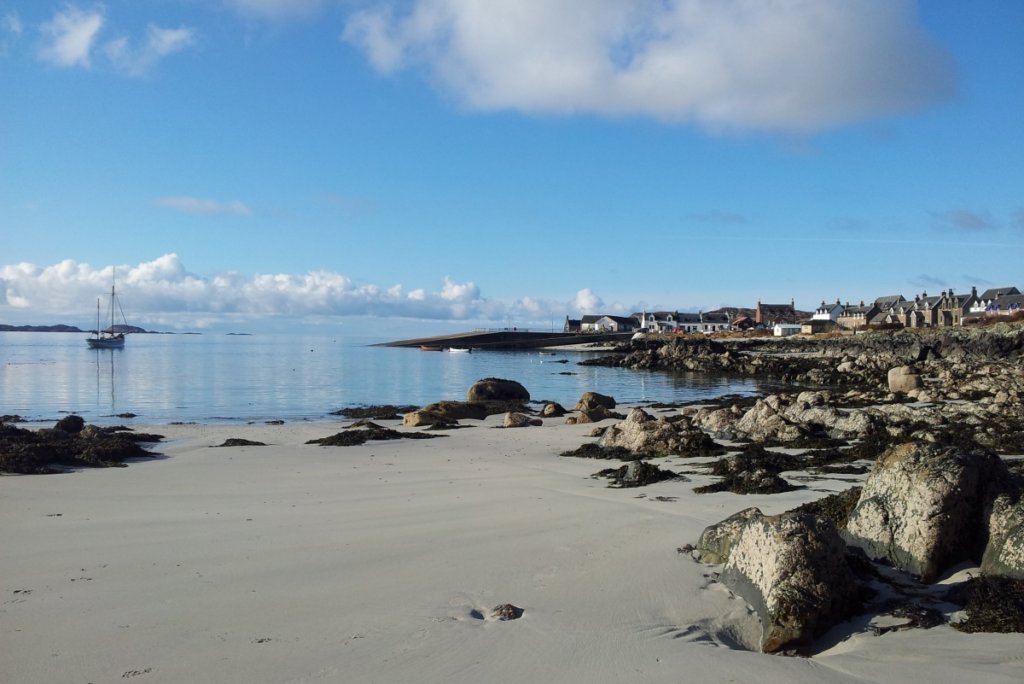 2. Port Ban Beach, Iona
Port Ban Beach is said to be the most sheltered beach on Iona. Consequently, it can often have the warmest water.
3. North End of Iona
Finally, you could head past Iona Abbey to the North End of Iona. Discover a series of stunning sandy beaches, interspersed with fascinating rock formations.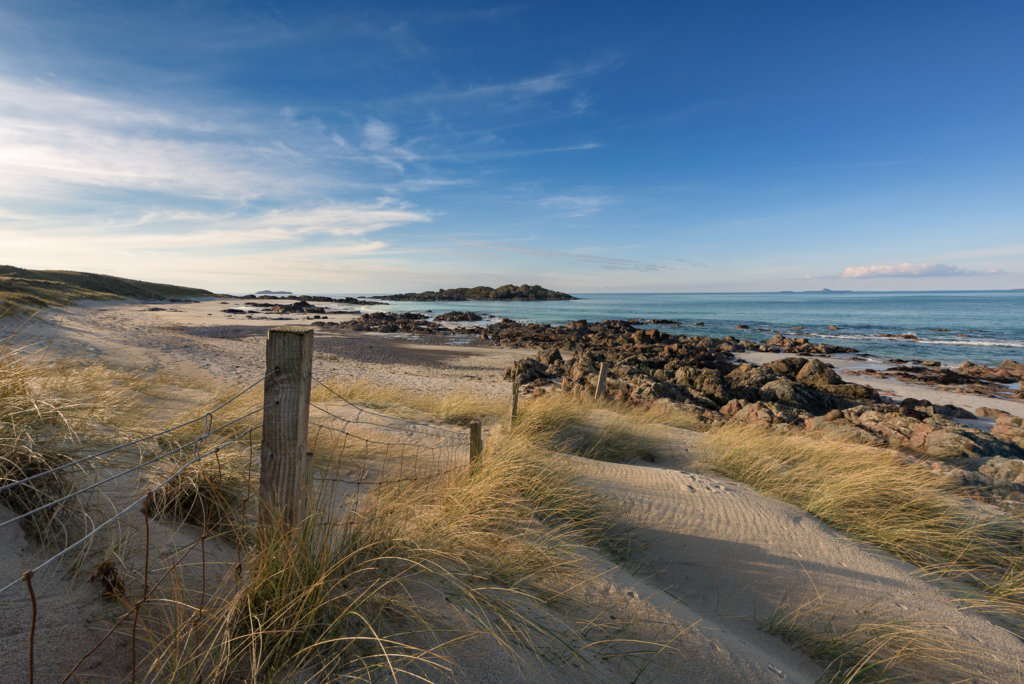 The Sound of Iona, between Iona and Mull
---
The Sound of Iona is only 1 mile across and a very tempting swim. However, this stretch of water has fast currents. It is only recommended for those with the required experience and accompanied by a safety vessel. Highland Open Water Swim often run open water swim events on this route.

Boat Trips to Mull and Iona's Offshore Islands
---
Visit Mull's Offshore Islands by booking a boat trip. Daily tours depart from Iona, Fionnphort, Tobermory and Ulva Ferry. Check out Turus Mara, Staffa Tours, Mull Charters and Staffa Trips. A trip to the Isle of Staffa is a unique experience. Especially if you take the plunge and swim into the dramatic cave itself. Alternative Boat Hire will be happy to take you to a very secret, idyllic place for wild swimming in their lovely traditional boat, Birthe Marie.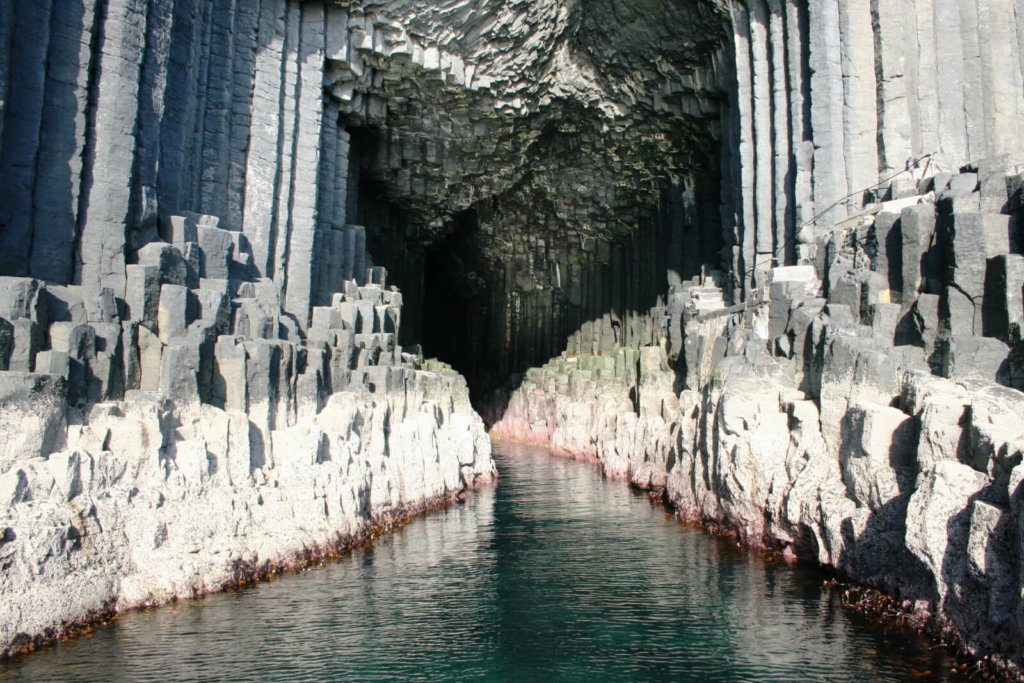 Ask around
---
Many of the locals regularly go wild swimming. So, ask your accommodation provider. Find out about some of the more secret coves which require more effort to reach. As a result, you are most likely to have the place all to yourself!
Wild Swimming on the Isle of Mull and the rest of Scotland
---
Mull is a large island, and there are, therefore, wild swimming opportunities all along the coastline. In the north-west of the Island, sheltered Calgary Bay is much favoured by many as the best beach for getting in the ocean.
For more information on wild swimming in Scotland and the rest of the UK, check out the Wild Swim website.