This guide is intended to help you get the most from your visit, while supporting our communities and protecting our fragile natural environment. We hope you have a wonderful time exploring our beautiful islands.
COVID-19 Guidance
Ensure you have a pitch booked each night.
Observe social distancing rules (2 metres in Scotland).
Wash or sanitise your hands regularly.
Face coverings mandatory indoors and on the ferry.
Please observe all requested procedures in shops and public spaces.

Try to avoid busy places, and be particularly careful if you can't.
Motorhomes and Campervans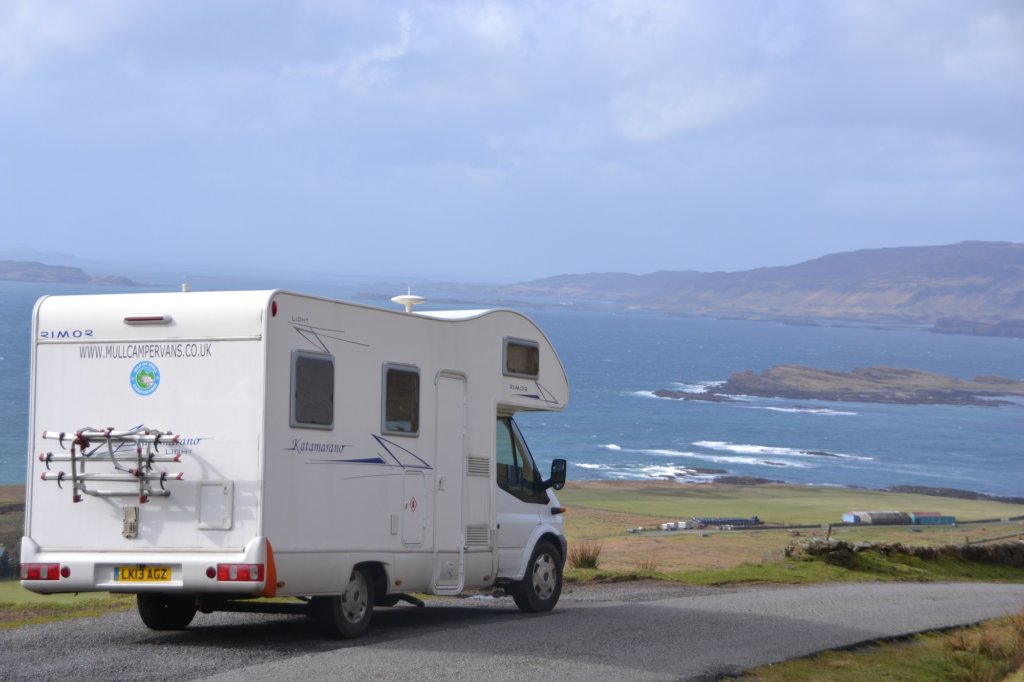 The Mull 123 is a 123 mile drive right around the island with stunning mountain and sea views and it is large enough to always find new places to go, yet small enough build up a good knowledge of the island, and to feel a sense of ownership and belonging during your trip here.
We have narrow roads and super views, but are often short of parking and other facilities. So please:
Plan ahead; before arriving on Mull, book your space at a campsite.
Overnight only at a designated camp site.
Empty chemical toilet waste at the waste disposal sites shown in the map below. It is forbidden to dispose of chemical waste in public toilets or on land, rivers or lochs
Only use camping stoves in an approved area, not open campfires because of the risk of wildfires.
Take care not to obstruct entrances, passing places or homes.
When driving on single track roads, stay on the tarmac. Don't attempt to pass oncoming cars by driving on the verges, use the passing places.
Drive as slowly as you wish but let following traffic overtake, by pulling into and stopping your vehicle in a Passing Place on your left.
Dispose of all your litter responsibly. If you take away any other litter you see, we would be very grateful.
Follow the Scottish Outdoor Access Code to be sure you do not harm wildlife or the environment.
Visitor vehicles are not allowd on Iona or Ulva, but we recommend a visit on foot or cycle. There is free daytime parking at the Columba Centre, Fionnphort and at Ulva Ferry.
Wild Camping is for walkers and cyclists
The Scottish Outdoor Access Code excludes motorised access for wild camping. This means any motorhome or campervan parking overnight in an area out-with established campsites and without permission to stay, may be asked to leave by the landowner.
If you choose to go wild camping with tents only, please help us look after Mull by following the seven 'Leave no Trace' principles:
Plan ahead and prepare
Travel and camp on durable surfaces and stay away from houses and farms, unless you have asked for and been granted permission first, and don't camp on agricultural fields.
Dispose of waste properly (chemical disposal must be done at campsites with appropriate facilities).
Leave what you find and always bag up your rubbish and take it with you when you leave
Minimise effects of fire – although lighting an open fire is not illegal, it's better to avoid open fires altogether due to a high fire risk on peaty soils
Respect and don't disturb farm animals and wildlife
Be considerate of others and remember locals make a living from the land
Together with Mull Community Council, we have produced this guide to appropriate places to camp, with some helpful tips for your stay. Our map of appropriate places to camp, which also shows facilities available, will help you plan your stay. There is also a chemical waste disposal facilities in Bunessan Village and Ulva Ferry.
The Campsites
With plenty campsites the length and breadth of the island, you can take your time to explore the myriad nooks and crannies whilst having the comfort of a campsite to go back to in the evenings. Please be aware though that sites with facilities in South West Mull are very limited.
Tobermory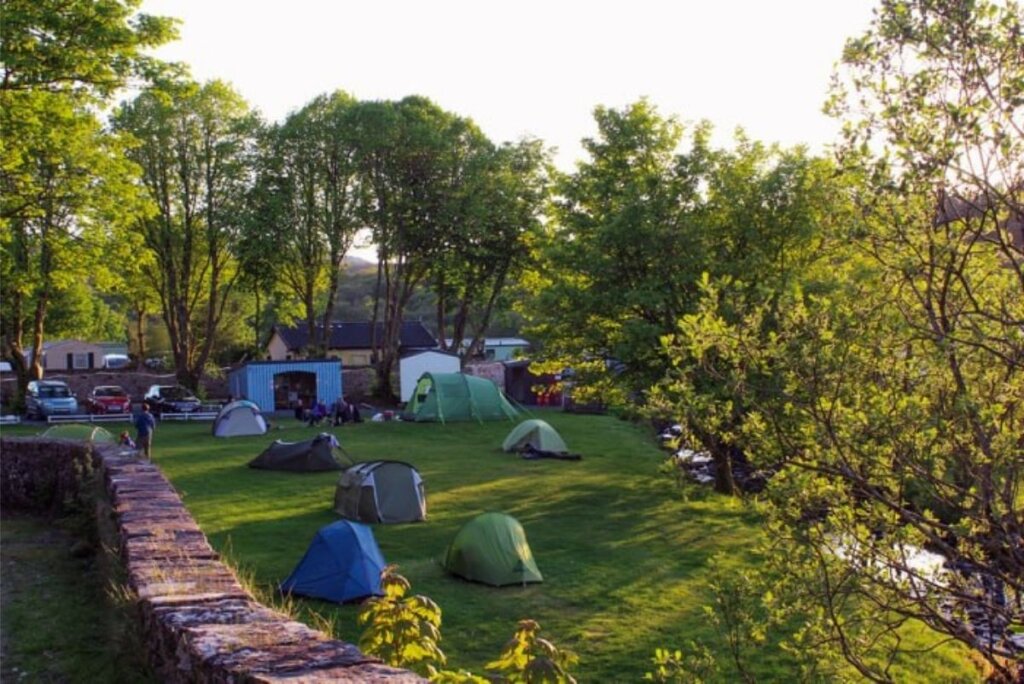 In the North, there is Tobermory Campsite, 1 mile West of Tobermory which has hook up, chemical disposal, toilets and showers and lots of spaces although booking is always recommended.
Calgary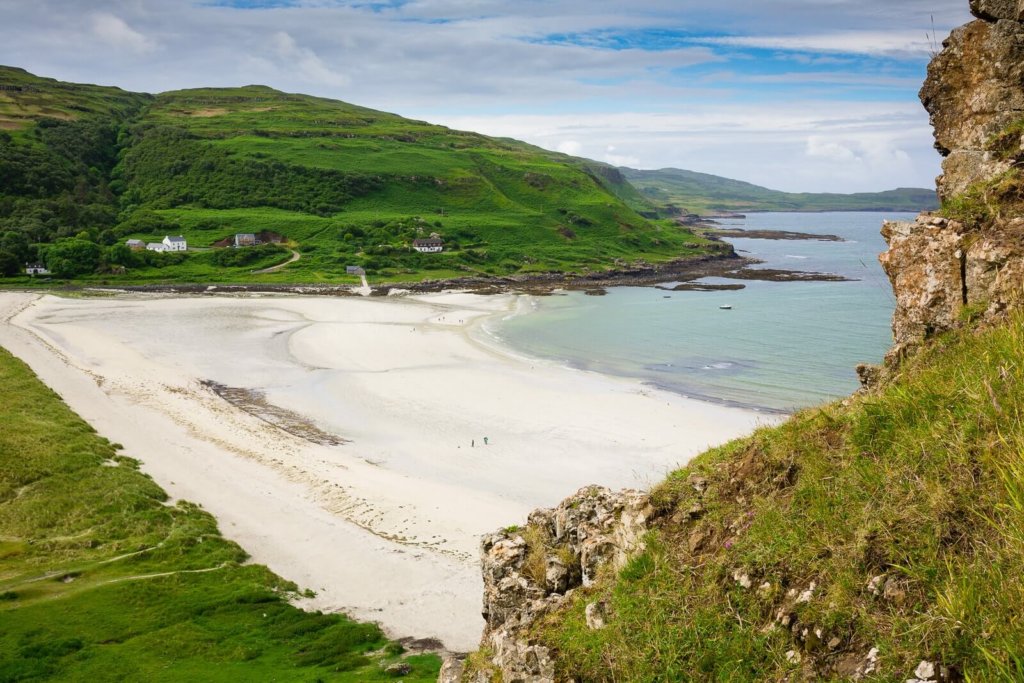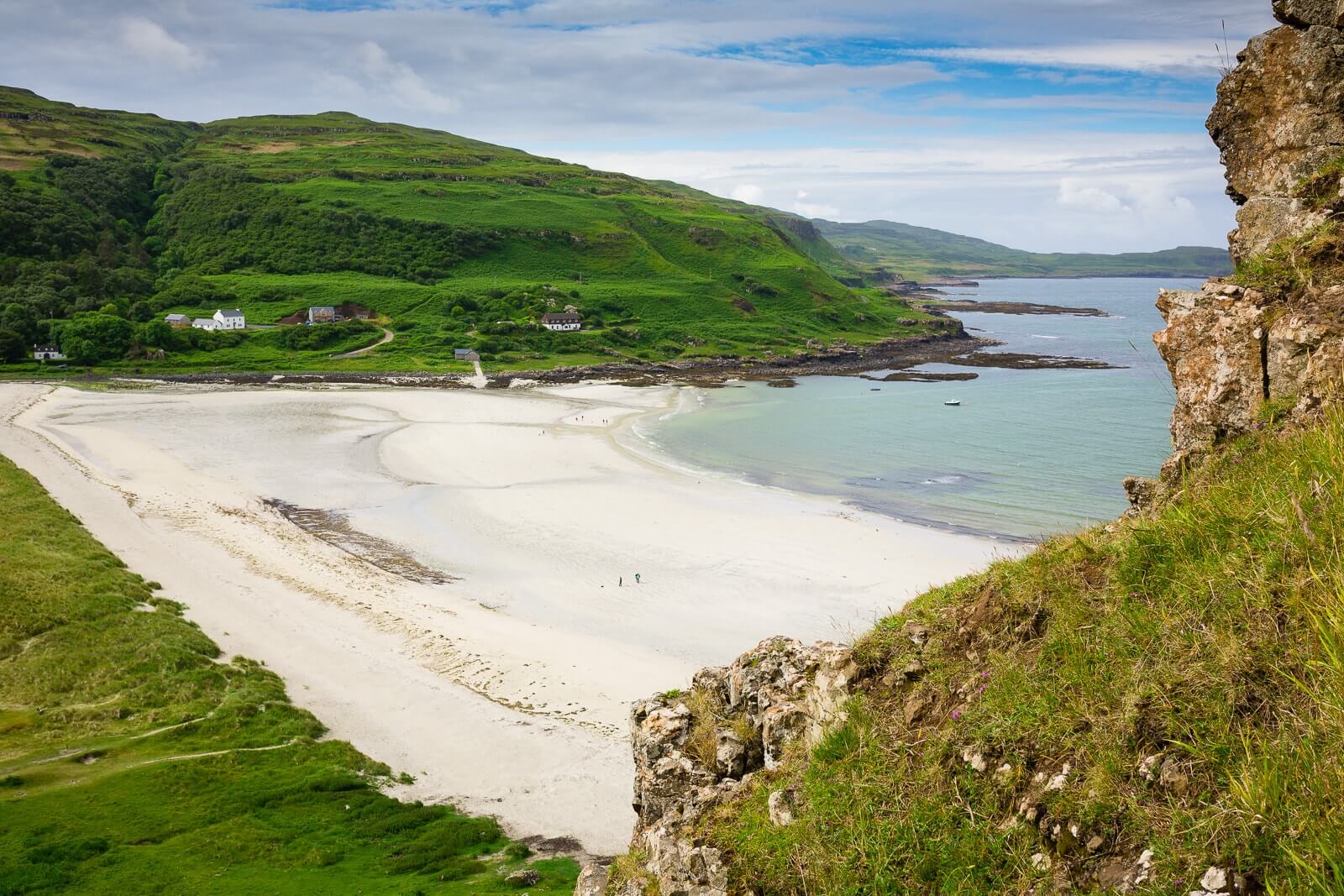 Take a drive along the Northern road from Tobermory to the famous Calgary beach, probably Mull's most popular beach and you will find a small council-owned campsite which is only suitable for small campervans as the wider vans can't fit through the gateway. Apart from the toilets, there are no other facilities but it is wonderful to be able to camp so close to the beach.
Killiechronan & Crannich Farm
A drive down the west coast from Calgary to Salen gives you some absolutely stunning views out to the islands of Ulva, Gometra, Inch Kenneth and Eorsa and you could camp at Killiechronan campsite at the head of Loch Na Keal (only toilets) or you could drive around to Crannich Farm which has serviced pitches with hook up, chemical disposal, showers and toilets – booking recommended and is in a perfect location for exploring the middle of the island.
Salen Bay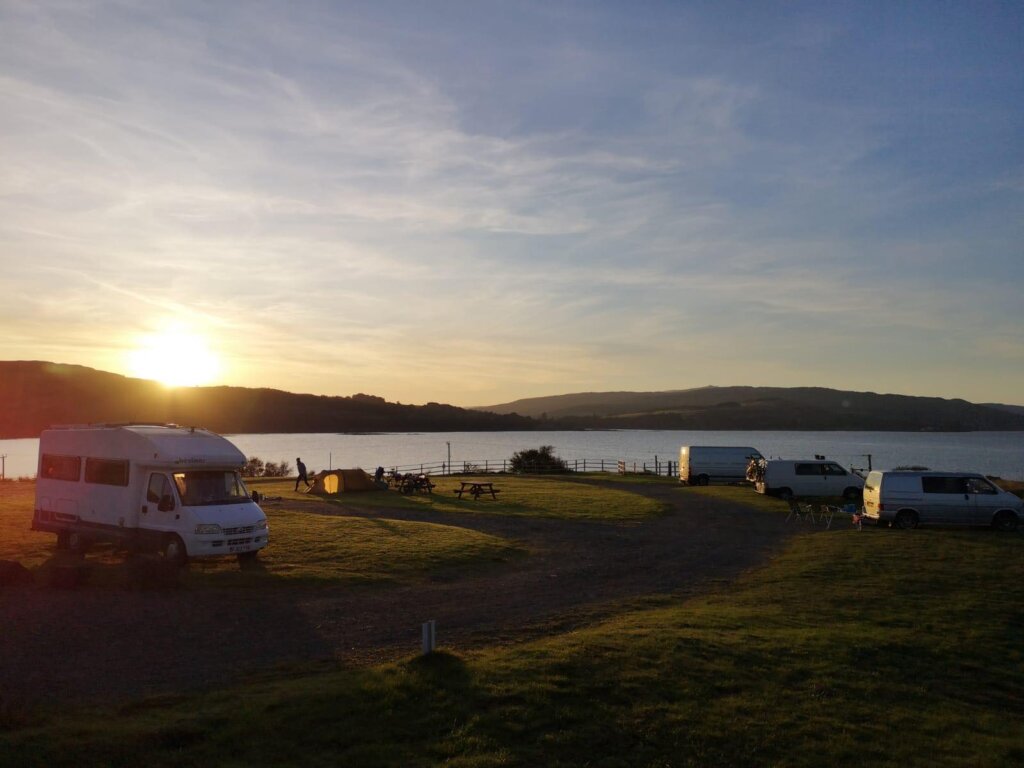 Salen Bay Campsite lies a short walk out of the village centre, off the beaten track and with easy shore access. Hidden down the 'old pier road' which was once an essential route for the islands groceries and livestock that came in off the ferry, up until the late sixties.
Pennygown

Pennygown Holiday Park is located just outside of Salen on the way towards Craignure, nestled in the rural landscape sat alongside the River Forsa with views of the Sound of Mull. They cater for touring caravans, motorhomes, campervans and those camping in tents with electrical hookups available; their site is pet friendly also.
Craignure
As is Shieling Holidays in Craignure, a large campsite with excellent facilities (hook up, chemical disposal, showers, toilets). This is also a handy stop-off perhaps for your first and last night as it is so close to the ferry terminal.
South West Mull and Iona
Sites for overnight camping for motorhomes and tents are limited in South West Mull and it is generally not possible to book in advance so make sure you have secured your pitch early in the day. There is a convenient chemical waste facility in Bunessan village. There is a campsite on Iona with good facilities, which is bookable. Note that no visitor vehicles are allowed on Iona.
Lochbuie
Lochbuie Campsite is a wild camping site, with lovely views to Colonsay and Islay. Please note that there are no on-site facilities. There is a WC and water tap available 24 hours a day 500metres away. The new "Old Post Office" café nearby provides delicious snacks, lunches and teas.
Ardalanish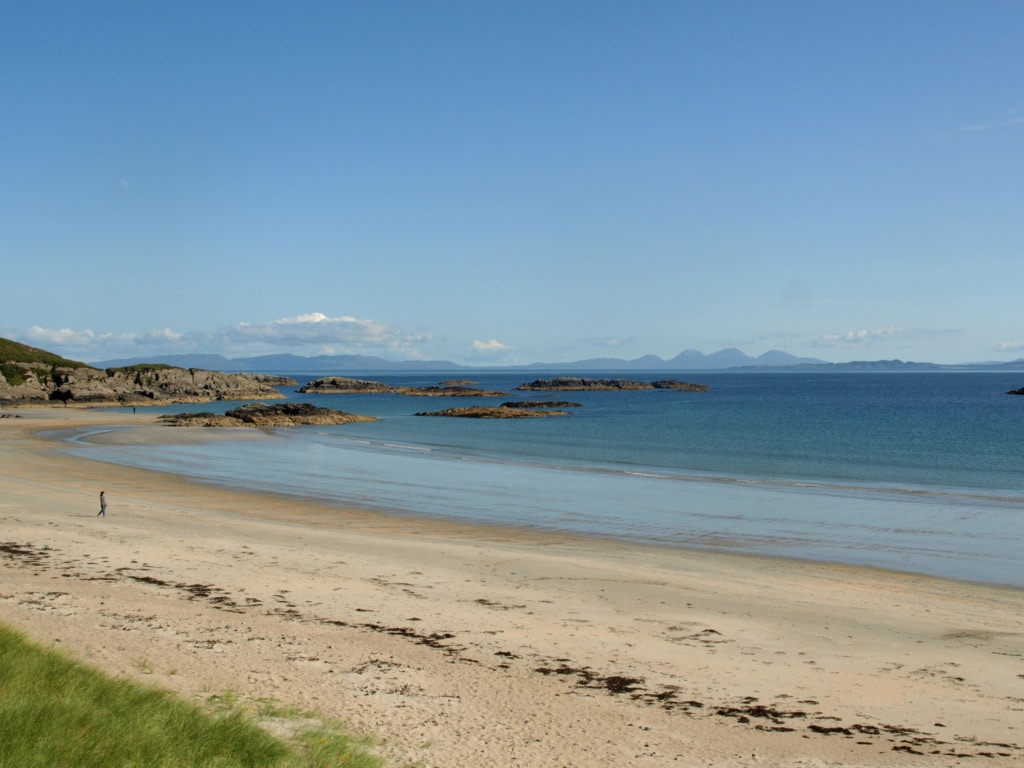 Ardalanish offers a field on their farm to self-sufficient motorhomes only as there are no on-site facilities. There are lovely views with Ardalanish Beach nearby. Some local frozen food produce is available in the Ardalanish Weavers shop.
Fidden
Fidden has pitches for self-sufficient motorhomes and caravans only. Please note they regret there are no facilities on-site this year and no camping for tents. The site has direct access to an extensive sandy beach.
Uisken
Uisken can offer space in a field beside the picturesque beach, for self-sufficient motorhomes. Please note there are no facilities on-site.
Iona Campsite
Iona Campsite is the only campsite on the island, offering beautiful views in a stunning natural environment. It is for tents only, as visitor cars are not allowed on Iona, but is just a short walk from the village and ferry. There are toilets, showers and a barbecue area with firepit.
Chemical Waste Disposal
Please only dispose of chemical waste in specialist facilities. It is forbidden to pour waste down public toilets, as it wrecks the sewage system, or in rivers and lochs as it devastates the environment. See the map above for campsites that provide legitimate chemical waste disposal. In addition there is a chemical waste disposal facilities at Bunessan and Ulva Ferry. The Bunessan waste disposal is in front of the public toilets, across from the car park on the main street and a donation of £10 is requested. The Ulva Ferry waste disposal is open April – September and costs £10 per use.
We welcome visitors who leave no trace or damage to our communities, wildlife and natural environment.
Driving on Mull
Watch this awesome little video about how to drive on our single track roads and have a read of our Driving on Mull guide.
Useful Mull Camping and Motorhome Information
Scottish Outdoor Access Code – Camping
Driving on Mull's single track roads
SaveSave
SaveSave