Read Eilidh Cameron's guest blog post about her recent trip to the Isle of Mull. Part one covers Eilidh's wildlife tour with Bryan from Wild About Mull, a trip to the secluded Traigh Bhan na Sgurra, dinner at the Keel Row and her stay at Achaban House in Fionnphort.
I was really excited when Visit Mull and Iona and Wild About Argyll contacted me asking if I would be interested in visiting the Isle of Mull. The Isle of Mull is one of my favourite islands because of its diversity. I spend quite a lot of time on Mull as my boyfriend lives in Tobermory. Most of my time spent on the island is in and around Tobermory so I was looking forward to this trip as it would allow me time to explore the Ross of Mull which I've only visited a handful of times. So let me tell you about my 48 hours on the island.
I caught the ferry from Oban at 10 am and at the Craignure ferry terminal on Mull around 50 minutes later. From here, I headed south along the A849 towards Pennyghael. The road passes through Glen More, enclosed by dramatic, misty mountains where deer roam, and eagles soar. It is a spectacular drive! It only takes about 30 minutes to reach Pennyghael from Craignure, and once there, I met up with Bryan from  Wild about Mull who was taking me out to spot wildlife. I was excited about the tour but also a little nervous about spending a lot of time with someone I had never met before. I guess I was just worried we had nothing to chat about. But I had no need to be nervous. Bryan was lovely, with lots of chat and an incredible amount of knowledge. I told him I wanted to see otters, so that's what we set out to find. The first couple of hours of searching were fruitless. I saw quite a few species of birds including buzzards and ravens but sadly no otters yet.
Since we were having no luck with otters, Bryan took me back up through Glen More to look for eagles. There is a Golden eagle nest on one of the ridges, so he fancied our chances and sure enough sitting high on a ridge sat a golden eagle. Even from so far away, this guy stood out, the size of these birds is phenomenal! We parked up and got the binoculars out just in time as he soon flew off to patrol his territory. After a quick bite to eat, we headed back down the Glen to continue our otter hunt, but on the way, we spotted some more eagles, this time a white-tailed eagle as well as a golden eagle. Sadly they were too high to photograph but here is a white-tailed sea eagle which I captured on the island last summer.
The otter hunt was much more successful after lunch. Within a couple of minutes, Bryan spotted a mother and cub fishing. We watched them quietly as they moved along the shoreline before curling up for a groom and a wee sleep. It was just the most joyful sight! The mother was aware we were there, but because we were quiet and kept our distance, she didn't seem to mind.
After watching the otters, Bryan took me down to Carsaig, a part of the island I had never been before. On the way down the road, I saw deer very close to the road and a couple of smaller birds of prey. It's a single track road with quite a lot of tight corners to be aware of.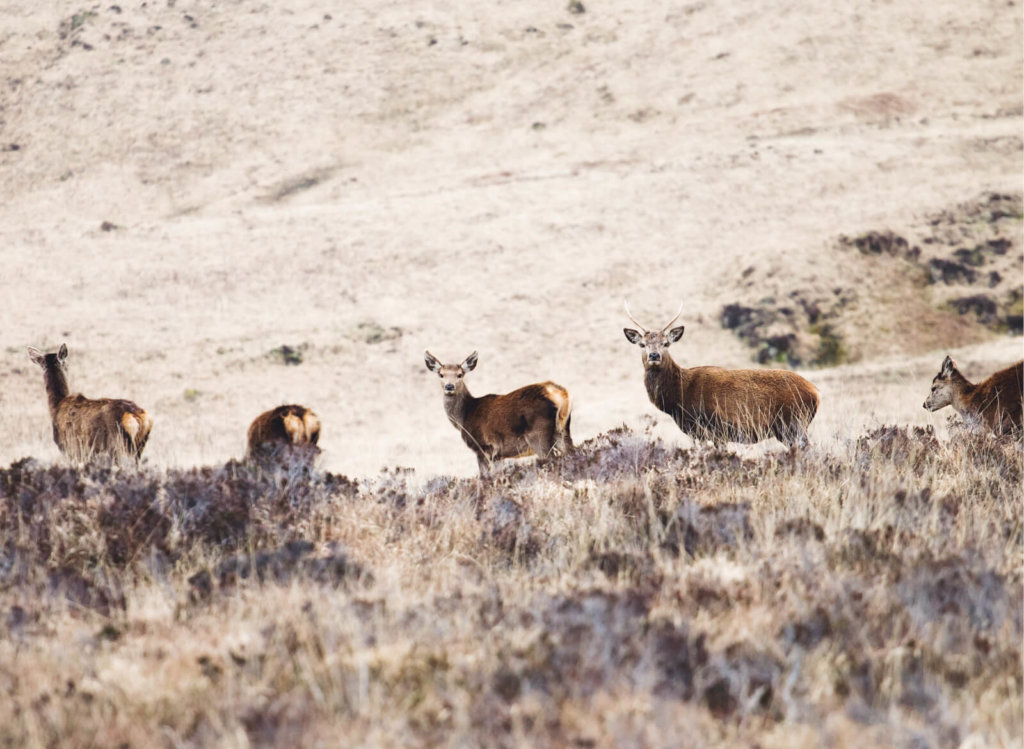 At the end of the road, we parked in a small car park and walked on to the pier. The views were specular even on a dreich day. Dramatic cliffs enclose the bay. Just offshore is a large seal colony. Some seals were lounging on the rocks while others were swimming around.
After visiting Carsaig, I said goodbye to Bryan and drove further down the Ross of Mull towards Bunessan, where I met up with my boyfriend. He took me down to a secluded beach called Traigh Bhan na Sgurra. Its a bit of a trek to get to this beach but it's worth the effort. Just before Bunessan, you'll see a sign for Scoor, if you follow this rough single track road you'll eventually come to a parking area. From here you make your way down through the fields and cliffs to the beach. It is a bit of a scramble, and I would advise against going alone if you are not competent in the outdoors as there is no phone signal if you get lost of something goes wrong. The beach itself is small but stunning. The sand is that beautiful Hebridean white. The beach is sheltered by two headlands so even on a March day it was pleasantly warm. We spent quite a while on the beach just soaking up the beauty of the area. We also spotted a Golden Eagle circling overhead.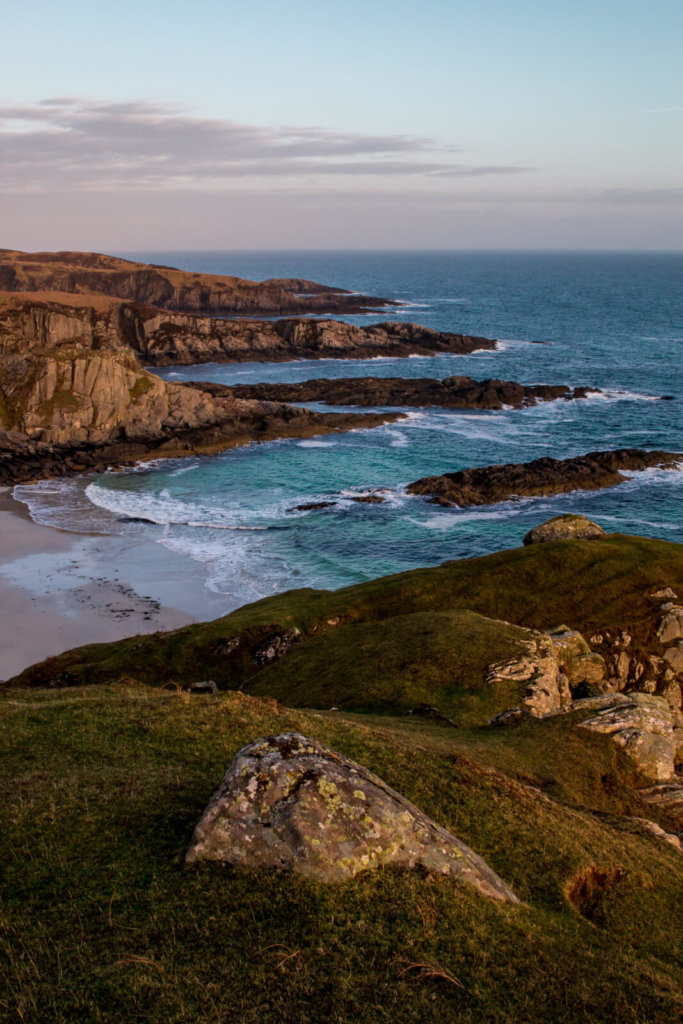 Just west of this beach you'll find a small cave. You have to get past the mud and the smell but if you do you'll discover prehistoric carving in the walls of the cave.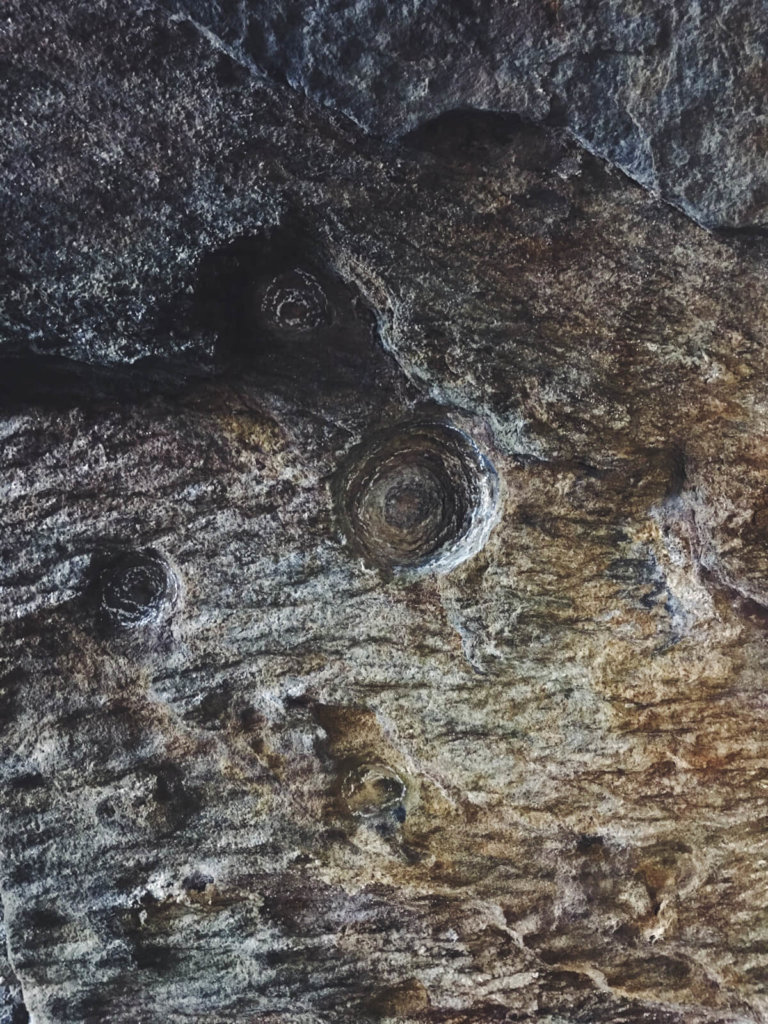 By the time we left, it was sunset and dinner time. After all of the walking about I was starving so we headed for Keel Row in Fionnphort and had an absolute feast. We were joined for dinner by Margaret, Matt and Rachel who own Achaban House where I was staying. After dinner, we headed back to the house which is only 2 minutes drive from Fionnphort and I headed straight to sleep as by this time I was totally exhausted!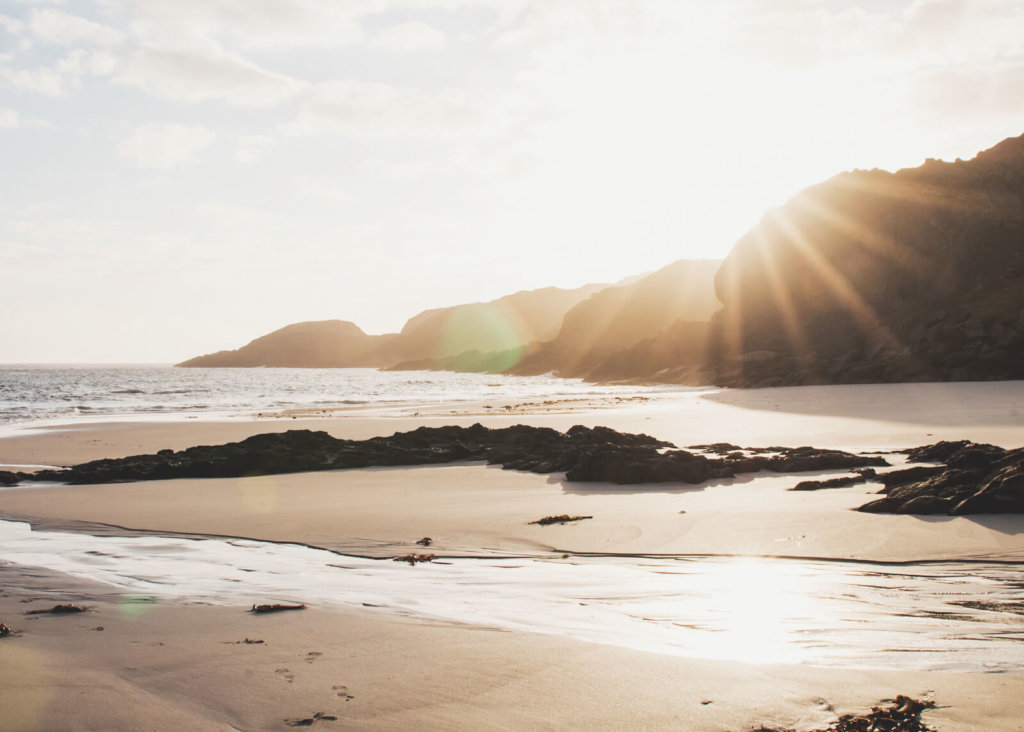 After a well-needed sleep at Achaban House, I woke up to a fantastic breakfast laid out by Matt and Rachel, the homemade seeded bread was honestly the best bread I have ever tasted. At breakfast, I met wild swimmer Calum MacLean. We had met a few years earlier so it was nice to say a quick hello. Unfortunately, due to my schedule, I didn't get to spend much time in the house but what I saw was comfortable, beautifully furnished and freshly decorated. The hosts could not have been friendlier or more welcoming.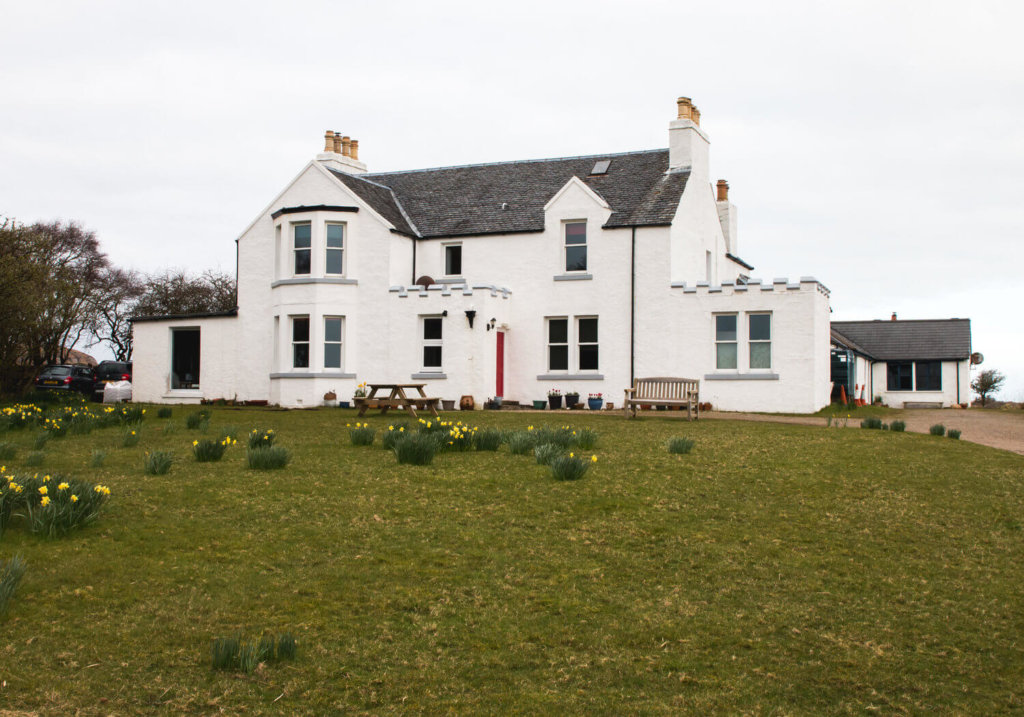 Read part two of Eilidh's blog here! Discover more of her fantastic photography on her website.