Read the second part of Eilidh Cameron's guest blog post about her recent trip to the Isle of Mull. Part two includes a visit Ardalanish Weavers, a trip to Eas Fors waterfall and Calgary Bay and an overnight stay at Glengorm Castle.
You can read the first part of Eilidhs blog here.
My first stop of the day was at Ardalanish Weavers, Matt and Rachel from Achaban House had recommended I visit here and it was only a short detour off my route. Ardalanish weavers consists of a farm, weavers shed and shop. The staff are welcoming and more than happy to show visitors around the weavers shed and demonstrate the weaving process. The process is really fascinating and requires a highly skilled individual to carry it out.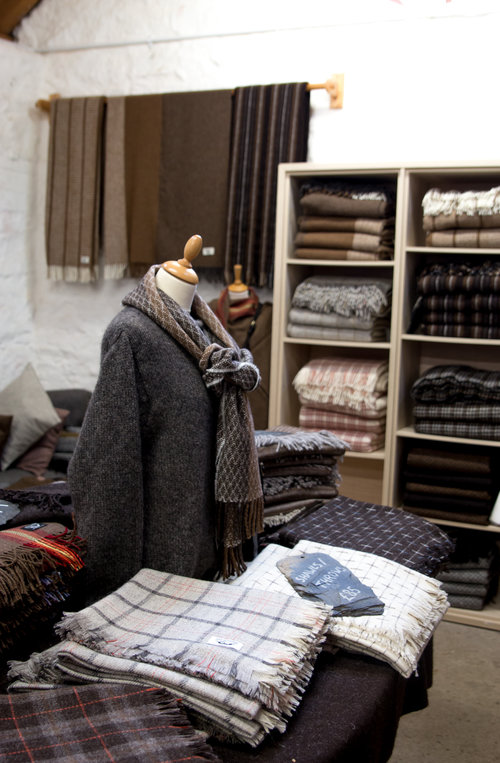 After leaving Ardalanish I headed back towards Pennyghael then turned onto the B8035. This road is known as the scenic route but it is possibly the most challenging to drive if you are not used to single track island roads. There are steep hills, sharp bends, the road passes below cliffs that are prone to small rock falls and livestock are often found roaming on the road but please don't let this put you off as the drive is totally worth it. As long as you take it easy and use passing places you'll be absolutely fine. Along this stretch, there are plenty of places to stop for walks, picnics or even a wee wild swim if you are feeling brave. It's worth keeping your eyes peeled for otters and eagles on this stretch of road.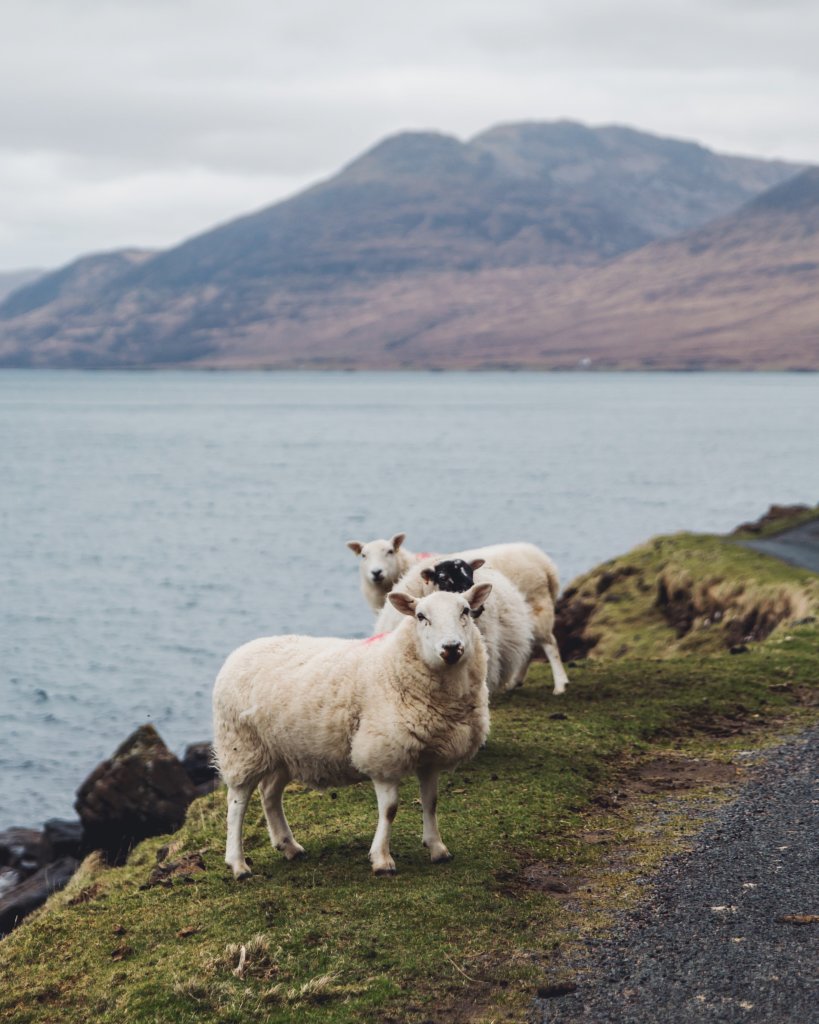 I carried along the B8035 until I reached Gruline here I turned onto the B8073 which carries along the west coast of the island. This road takes you up the other side of Loch na Keal. I personally think this side of the Loch is the most scenic as you are looking across to Ben More (Mulls only Munro) and the other mountains.
A couple of miles on from the Ulva ferry you'll come to a waterfall which is worth stopping at, the name of this waterfall is Eas Fors waterfall and literally translates to 'waterfall waterfall waterfall.' It starts off pretty gently, cascading down into wee pools but if you follow the river about 50 meters you'll come to the edge of a cliff and the waterfall plummets over the edge to the shore below. I don't have a photo looking over the edge as my lens kept getting soaked from the wind blowing the waterfall up the way.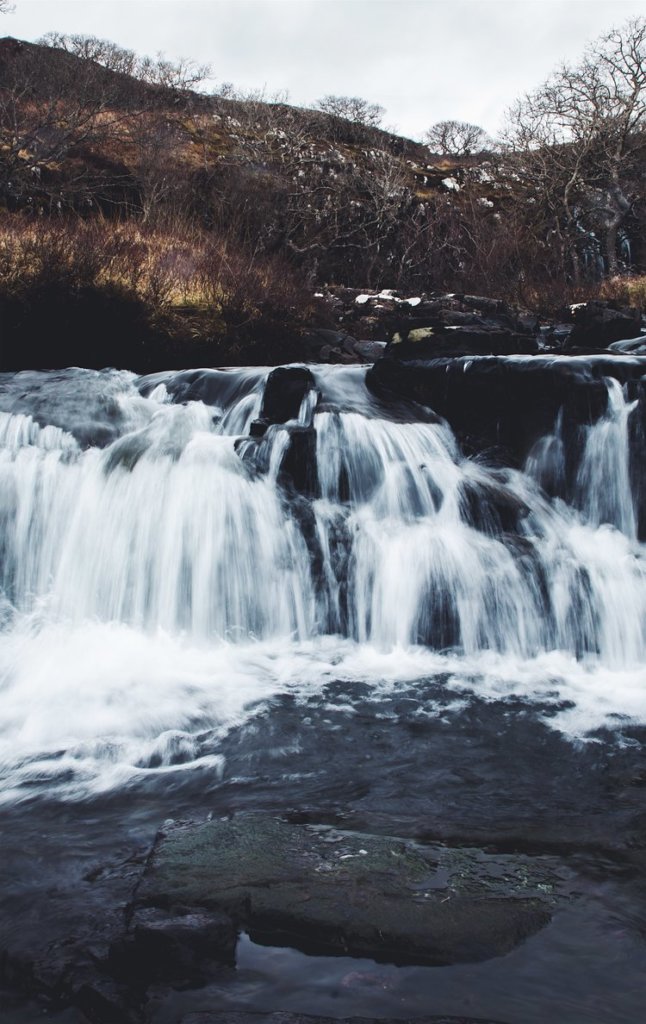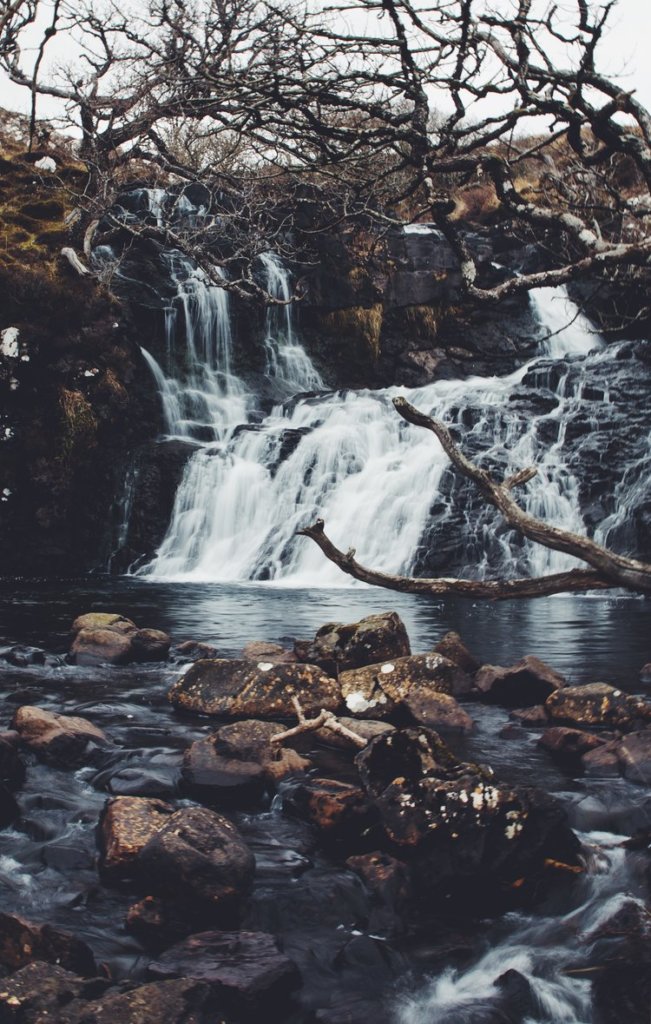 Continue along the twisty road and you will eventually reach Calgary Bay, this area lent its name to that major city in Canada; Calgary. It always amuses me when I hear people stating that Calgary on Mull must have been named after Calgary in Canada. Anyway, this beautiful sandy bay is glorious in summer but when I visited it was very windy and a wee bit wet. However, I do think there is something exhilarating about being on a beach on a blustery day. On days like this, you really feel the power of nature around you and that can be quite a good feeling. But it can also be a cold and wet feeling so I didn't stay too long. Below is a picture of Calgary when I visited on my trip along with a picture taken on the hills above the beach on a hot evening last summer. I think you'll agree that the beach and surrounding area is stunning in both weather conditions.
My next destination was where I would be staying for the night, Glengorm Castle. Upon arrival, I headed straight to the Glengorm Castle Coffee Shop. I was starving and pretty tired after a busy morning to it was lovely to sit down in here and relax for a while. For lunch, I ordered the fish platter which consisted of salmon and trout which was prepared and cured in different ways along with salad and bread. This meal was really delicious and also healthy. Afterwards, I had a big slice of rose and raspberry cake. Not quite as healthy but even more delicious.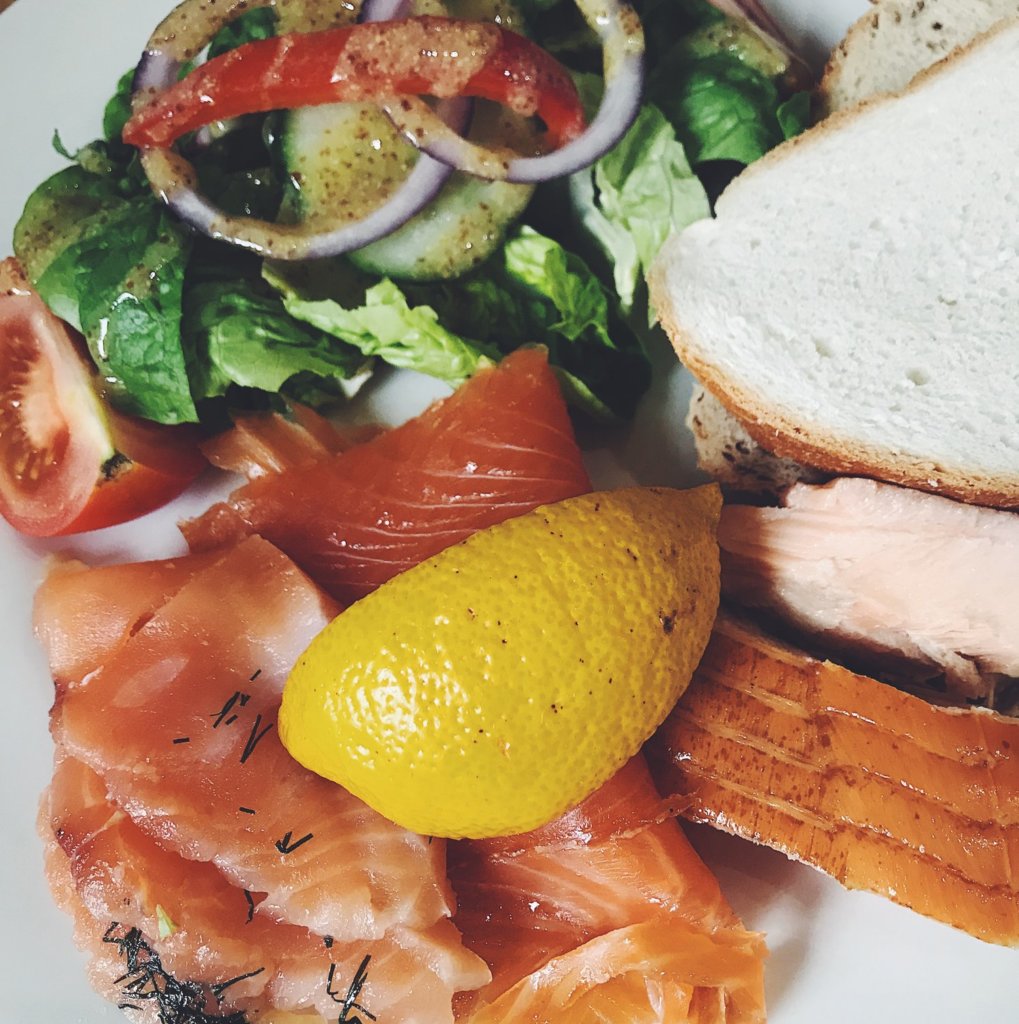 During the afternoon I was meant to meet Kerry, the Glengorm ranger to join her as she trained volunteers as guides for one of the walks run at Glengorm but disappointedly I was running late and missed the walk. Glengorm runs a wildlife project which was established in 2013, the aim of this project is to 'monitor the biodiversity' of the estate along with providing an 'interactive education facility' for the public to help 'connect them with the spectacular natural heritage' of this area. The wildlife project has a very visual visitor centre which is great for adults and children alike. The project also runs a variety of guided walks for all ages and abilities. These walks can take you to places of historic interest, on peacefully woodland walks and one even takes you to an extinct volcano. Since I missed the walk I had a wander around the estate by myself, its a really lovely area with beautiful views across the sound of Mull to the Ardnamurchan peninsula and also north to the islands of Coll and Tiree.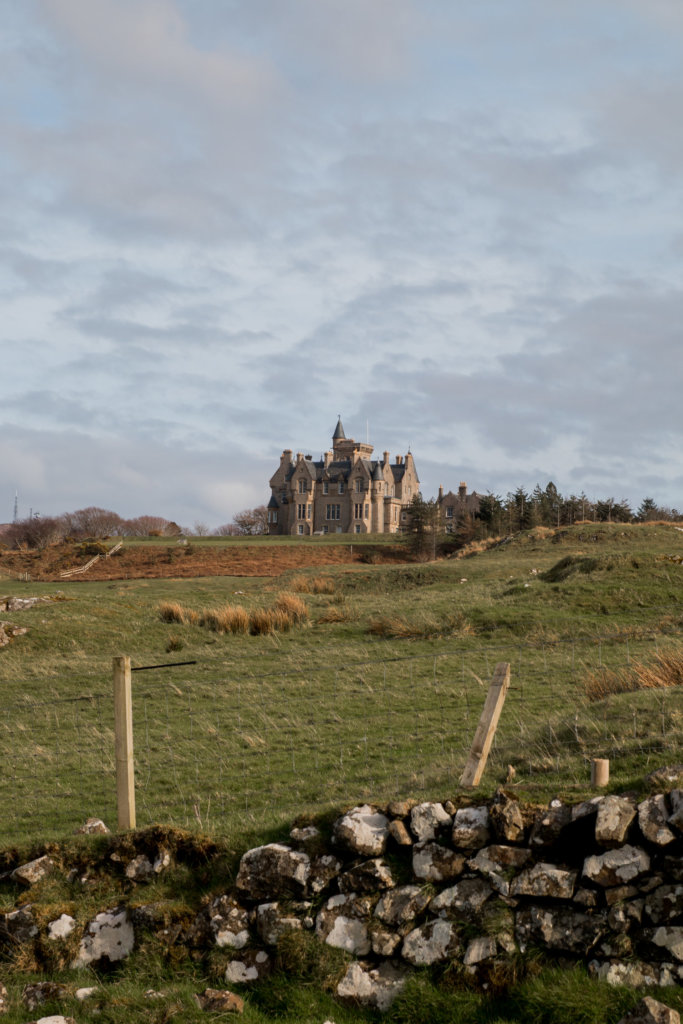 After my walk, I was really quite tired so checked into the castle where I received a warm welcome before being shown to my luxurious room. My favourite feature of the room was the bathtub. I couldn't resist having a bath to warm up and have a bit of a rest.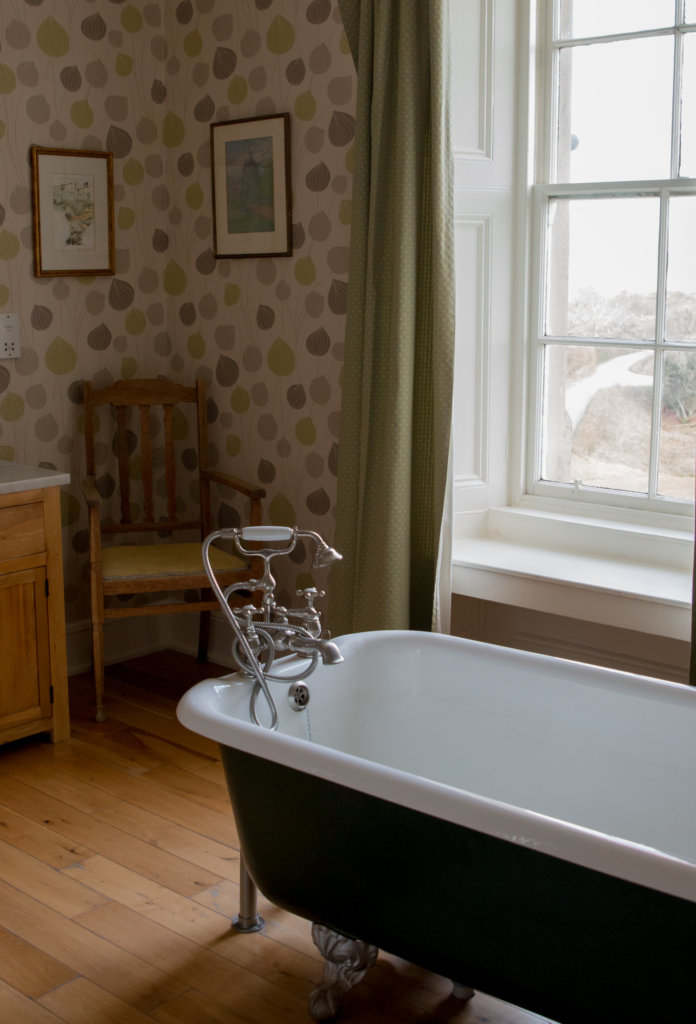 All the rooms the castle are so tastefully decorated. It's definitely Scottish but not too Scottish if you know what I mean. In the reception area, there is a large open fire to sit beside. There is a library with the most incredible selection of books and an even better view. There is also another guest room which is very comfortable to sit and has a pool table.
In the early evening, I headed to a hill on the Glengorm estate called Meall an Inbhire, this hill is easily identified as it has radio masts. My aim here was to capture a magnificent sunset however Mother Nature had other ideas as a massive bank of cloud came in and blocked out the sun leaving rather unphotogenic light. I was quite disappointed that I wouldn't be able to capture the photograph I had planned however it was still a magnificent view and well worth the walk.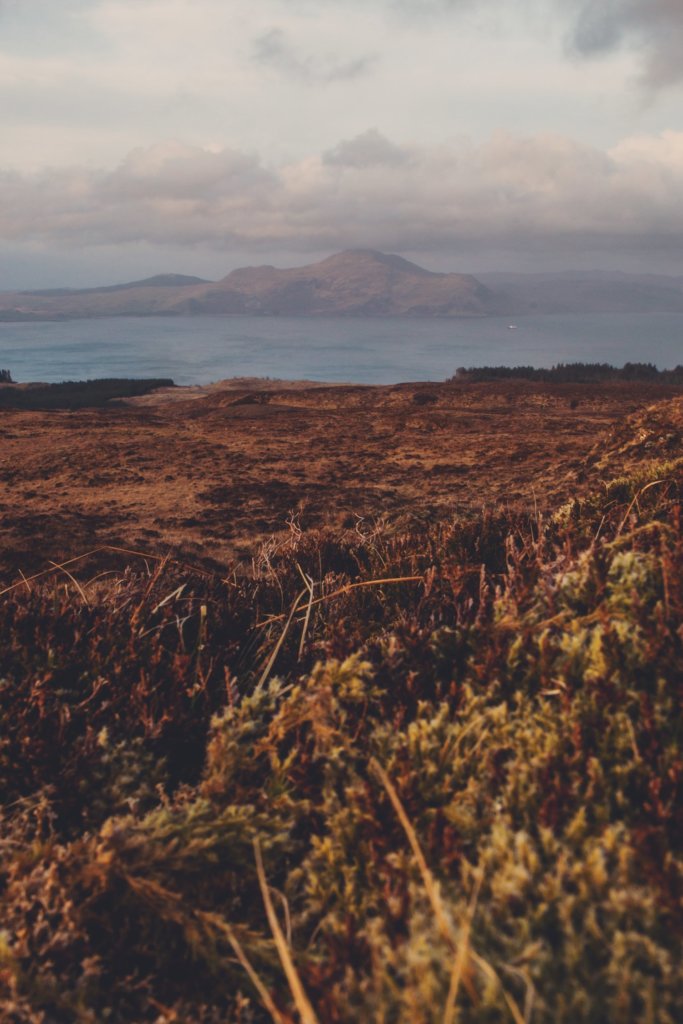 After my walk I headed into Tobermory for dinner, the town is only a 15-minute drive from Glengorm castle. Tobermory has a great choice of places to eat, there's something for everyone with options of good old pub food, restaurants serving local produce and even a seafood cafe. I've eaten in them all and thoroughly enjoyed the food and the atmosphere in each. On this particular evening, I was treated to a complimentary meal in MacGoghans which is located on the harbour. I ate in the Restaurant Bar but they also have other rooms including the cosy Bar Beag. The atmosphere is lively in the evening. I visited with a mixture of locals and tourists eating and drinking. MacGochan's regularly has live music especially during the summer months with great Scottish bands like Gunna Sound, Skerryvore and Heron Valley.
After dinner, I drove back to the castle, by this time all the cloud had cleared away and the stars were beautiful however it was far too windy to consider photographing them. In the castle's library, there is a shelf of whisky which guests are permitted to help themselves to, so I poured myself a wee dram and sat by the open fire before retiring to bed.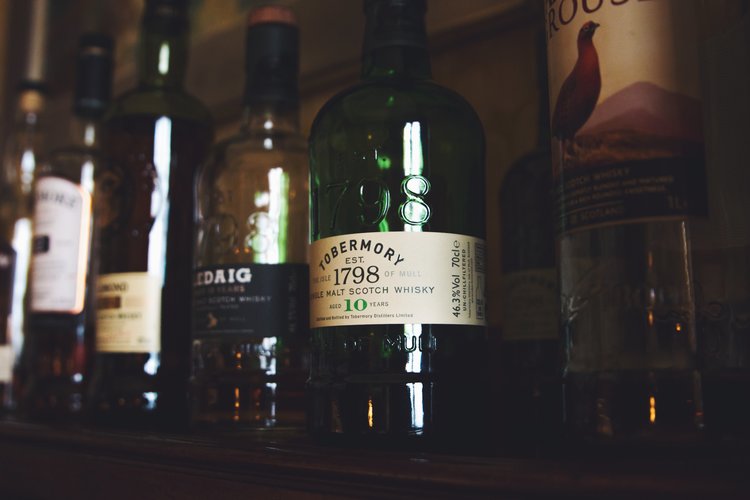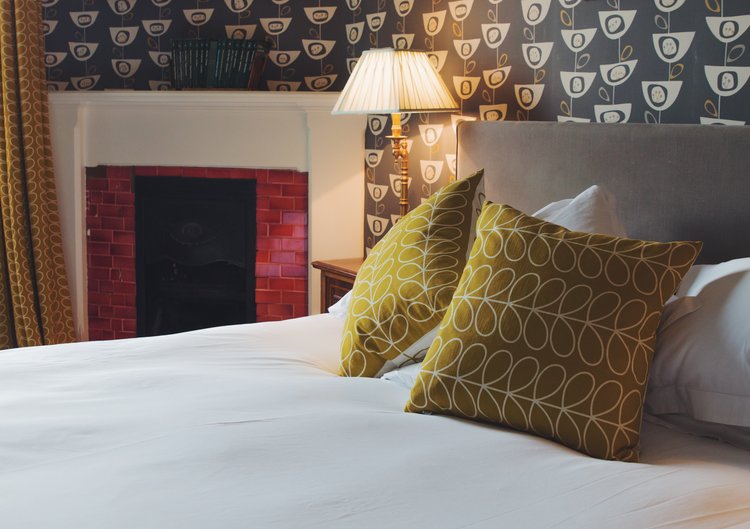 Earlier in the year, I attend the Isle of Mull music festival which was amazing fun. All the pubs in Tobermory have live music and there's a real party atmosphere. Best of all its all totally free! I couldn't make it over until the Saturday night but it had been going on for two days previously. On Saturday night I saw Stornoway band Peat and Diesel in MacGochans who really got the crowd going and then I went to listen to fiddler Archie MacAllister in the Mishnish. Archie's music is very traditional and he has to be one of the top fiddle players in the country. Parties went on to the wee small hours of the morning but I had to call it a night before the pubs closed. While walking along the front street I could hear a variety of music coming from all corners of the town.
The party started again around noon on Sunday with bands like Gunna Sound and Tidelines serenading the crowds. Sunday seemed like a real family-friendly day. I was sat with a group in the beer gardens of MacGochans and there were a lot of kids around who were loving the music. If you love Scottish music or just fancy an all-weekend party I would definitely recommend getting yourself over to Mull next year to enjoy one of the biggest Hebridean parties.
Discover more of Eilidh Cameron's photography on her website.