A whole lot is going on at the Hebridean Whale and Dolphin Trust (HWDT) Discovery Centre this summer. Come and dive into the underwater world of whales, dolphins and porpoises; learn about Hebridean species and find out where best to spot creatures off the coasts of Mull and Iona.
Situated on Tobermory's Main Street with a beautiful view of the harbour, we are open seven days a week from May to October, with our team always on hand for a chat about marine wildlife. Discover about our research vessel, Silurian, discuss our data findings and find out how you can help conserve our beautiful oceans.  Ask us about the latest sightings in the area or test us on our whale facts – we love sharing our knowledge about these incredible animals!
There's an interactive exhibition area with access to our data and a video to find out more about the Trust. For budding marine scientists, we also have a hands-on Exploration Station to make your discoveries, from identifying sea birds to animal life and much more. Activities vary daily to suit all types and ages – for wee ones there is Porpoise World, where they can explore fun facts about our smallest cetacean.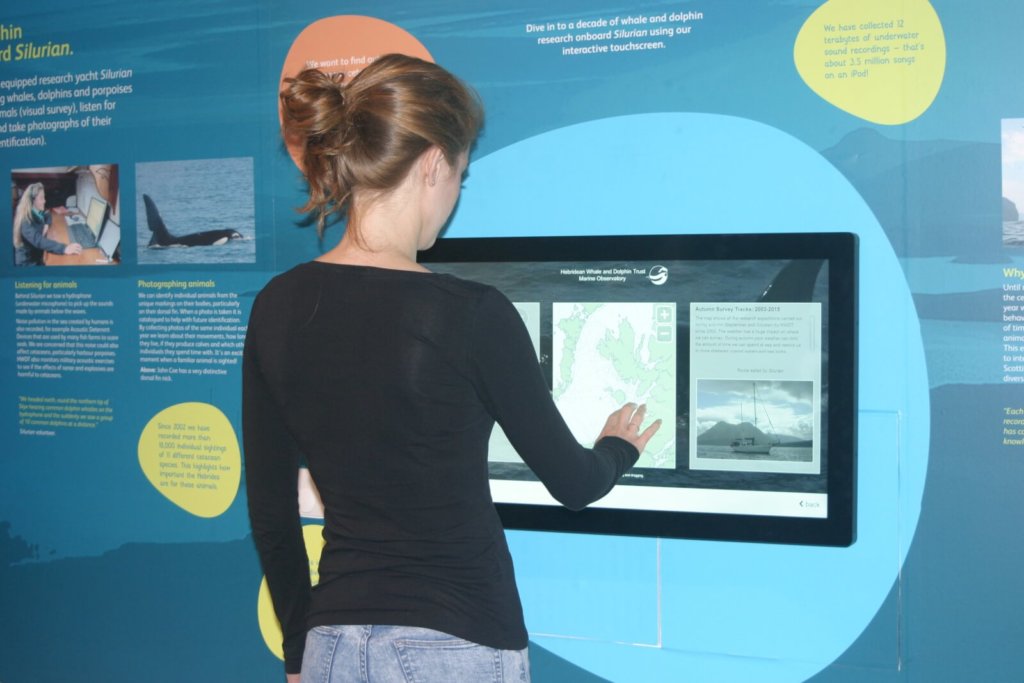 For the curious, we have daily discovery talks – a chance to get up close and personal with real whale bones and baleen and find out how they catch and eat their food. Or learn about the whales and dolphins that share our waters with us and the clues you can use to increase your chances of spotting these wondrous creatures from the land.
And if you like clues and puzzles we also have our very own escape room. Suitable for teams of up to four at a time it is popular with both adults and children alike – see if you have what it takes to solve the riddles and escape the pirate's cave!
If you do manage to escape and want to get out and about, why not come on a headland watch with us? Join us every Thursday morning at Glengorm Visitor Centre as we carry out a headland watch and collect environmental data. Led by our knowledgeable team, we will equip you with the tools and tips you need to spot marine life on your travels, and you may even encounter a passing cetacean or two.
We stock our Discovery Centre with beautiful gifts, books and locally handmade crafts to remember your visit to Mull. We have a vast range of plastic free products so if you're looking for a bamboo toothbrush or a shampoo beauty bar, then be sure to stop by for a browse. We also offer an ocean-friendly cleaning product re-fill station. Bring in your old containers and fill them up with laundry liquid, fabric conditioner, washing-up liquid or all-purpose cleaner.
So if you are looking for a whale of a time on the Isle of Mull, come and visit us for inspiration and ideas.
For more information about HWDT, please visit www.hwdt.org and follow us on Facebook, Instagram and Twitter.
For more information about the Discovery Centre, please contact [email protected] or call 01688 302816.