Some good things have come out of Lockdown and the new Mull and Iona Online Gift Shop is one of them. Our island artisan producers are facing new challenges from the lack of visitors and visitors are missing our islands, so the online shop was born. Shopping here provides access to a great selection of original and authentic gifts, while supporting the independent small businesses and creators living and working on our islands.
If you are looking for some inspiration for Christmas gifts for someone who loves Mull and Iona, then look no further. Or maybe you are just missing our islands and feel like treating yourself.
Here are just some of the lovely unique and handmade gifts available on The Mull and Iona Shop – visit the website to see more.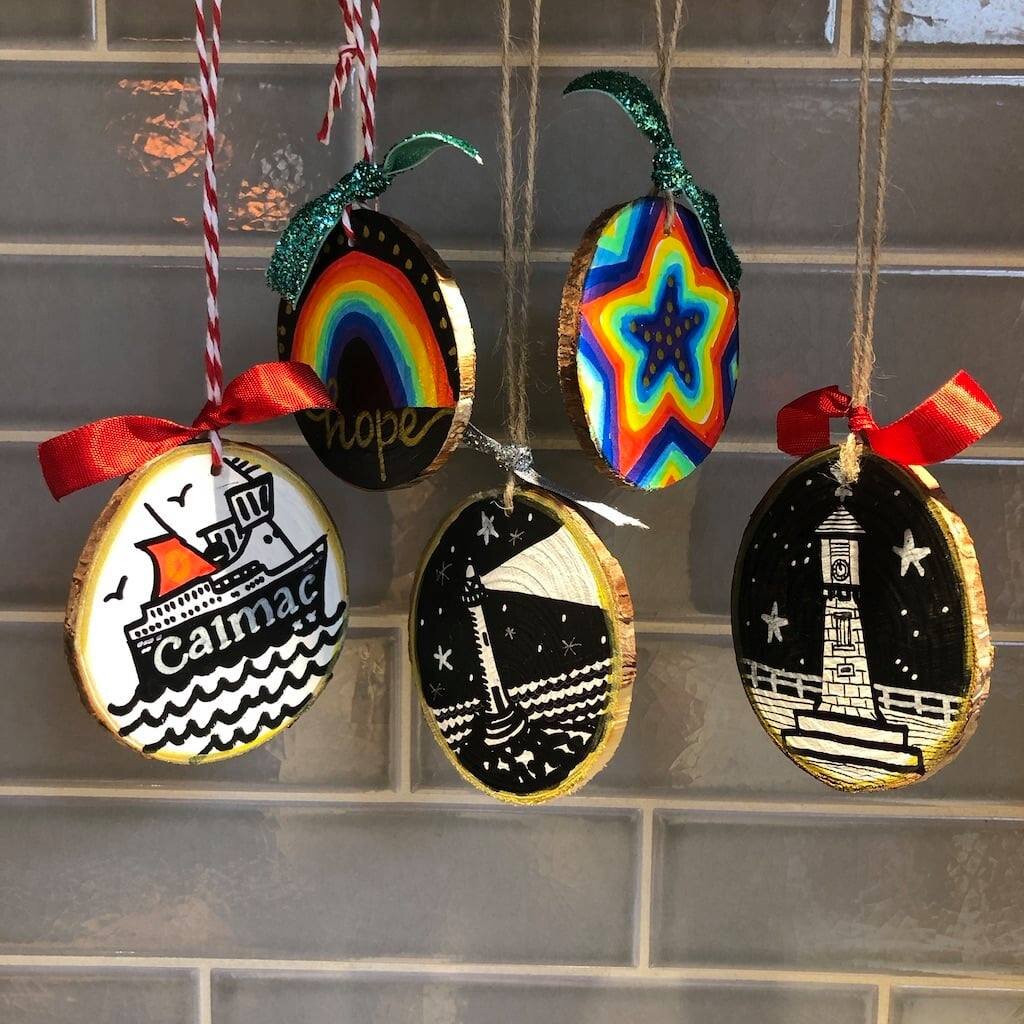 Hand Painted Hanging DecorationsDawn is a graphic designer from Tobermory who hand paints original designs on rustic wood slices with bark edges. These decorations have been sealed with a clear resin glaze and topped with a colourful ribbon. The glaze has a high gloss finish that will catch the light when hanging on your Christmas tree. A variety of local designs including our MV Isle of Mull Ferry, Tobermory Clock Tower and Rubha Nan Gall Lighthouse, each hand made so no two will be exactly the same.
£7.50 each from Biscuit Press Design
Island Artisan ChocolatesIsland Artisan Chocolates is a family run independent coffee shop which many visitors are greeted to when stepping off the ferry in Craignure. They make a wide variety of our unique handmade artisan chocolates and use high quality coffee beans from Italy, which are expertly paired with West Coast water.
£12 – £20 for boxes of various sizes from Island Artisan Chocolates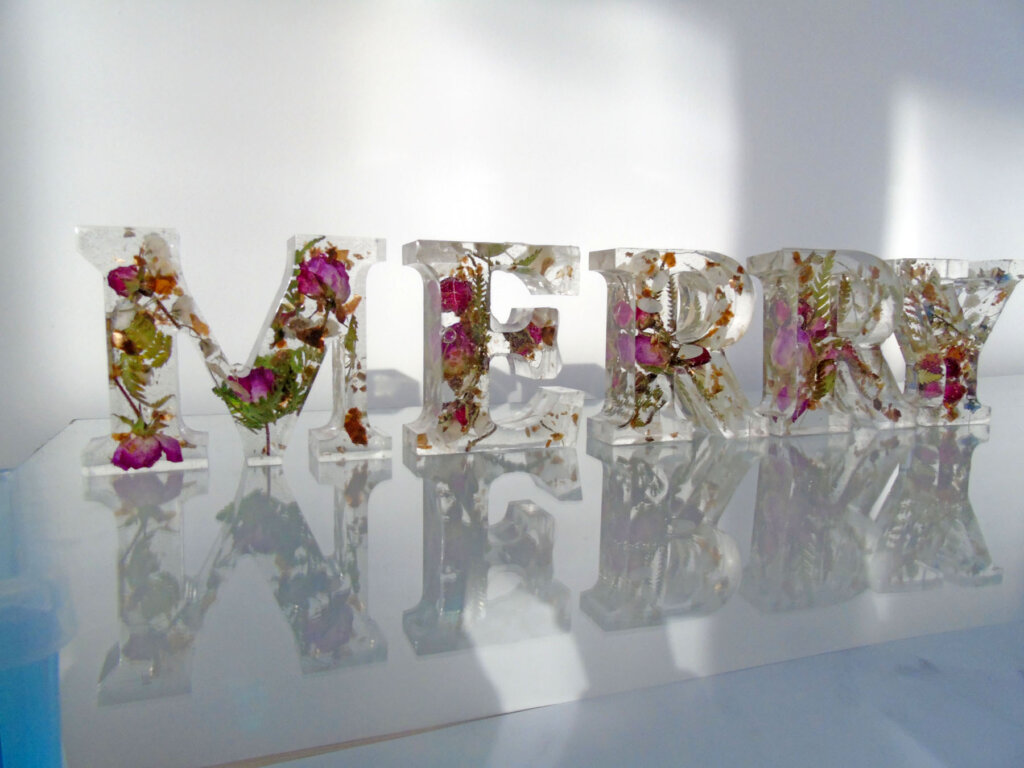 Aska is a local artist originally from Poland and now a resident in Tobermory. As well as painting beautiful landscapes, Aska also creates flower resin letters. Each one is unique and filled with flowers and plants gathered on the Isle of Mull and encapsulated in resin. You will find lovely details and effects when looking at these closely.
£12 – £18 each from Scottish Island Art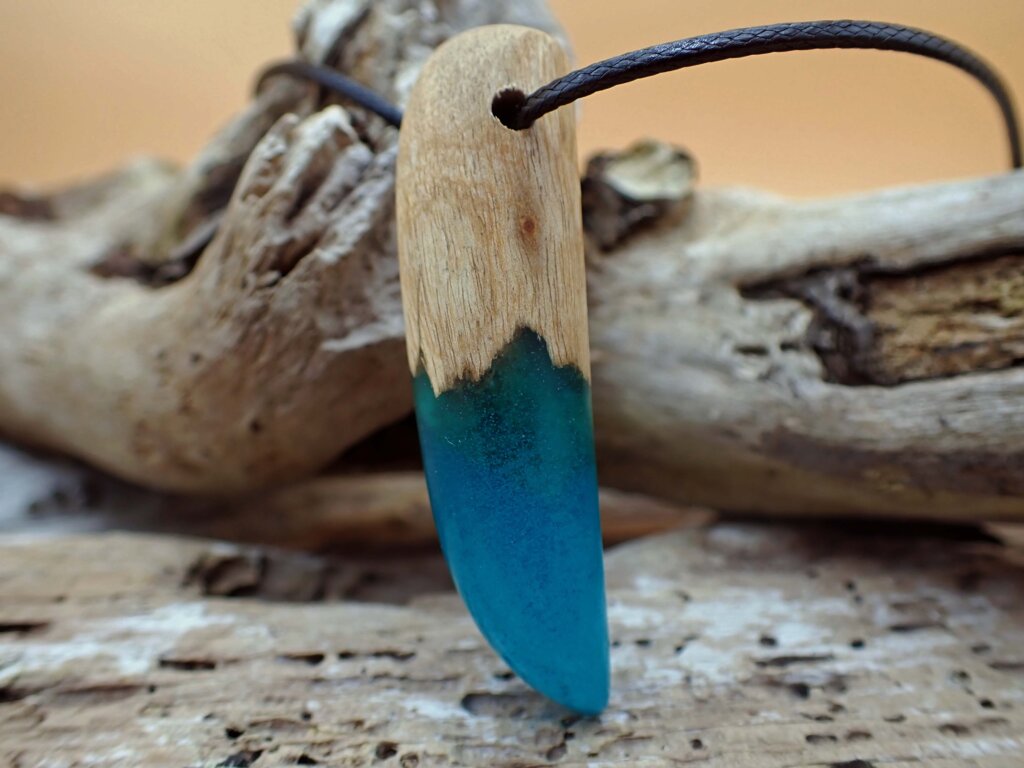 Shore Scavenged Glass and Driftwood Jewellery
Life Afloat's jewellery designs are truly beautiful, no two pieces the same. Nick from Tobermory taught himself to fuse glass, which he explains has helped promote his mental health recovery. Nick has a passion for sea kayaking and takes creative inspiration from the nature around him, foraging along the shoreline of the island for glass and driftwood.
£12 – £23 from Life Afloat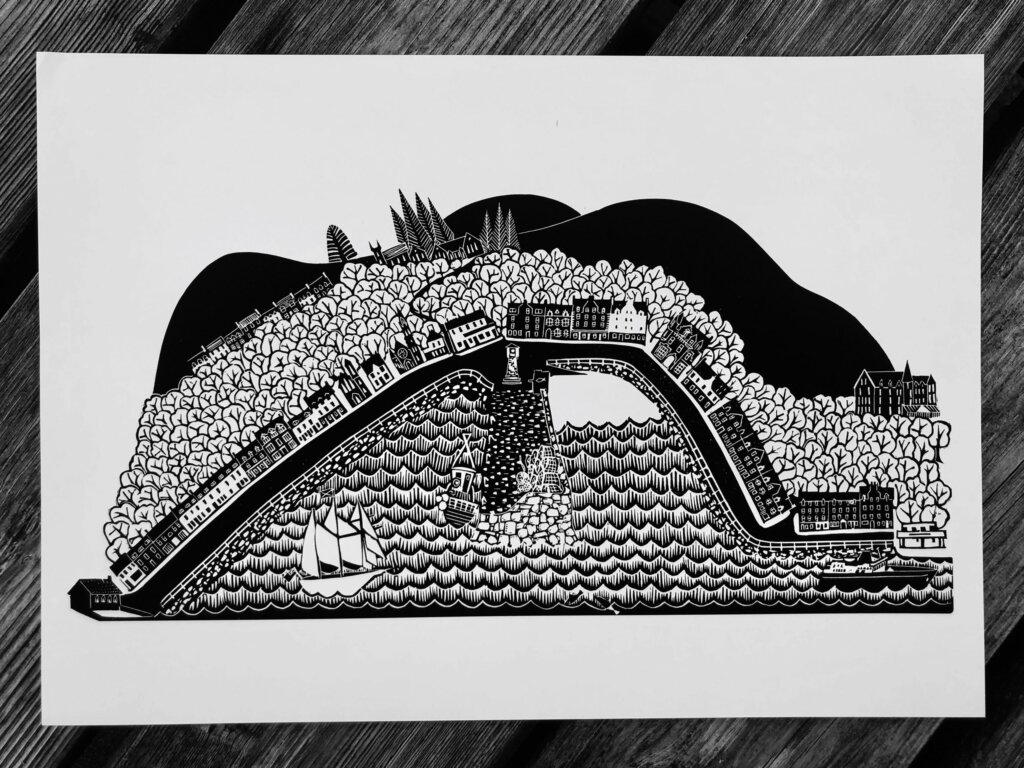 Limited Edition Hand Carved Tobermory LinocutAs well as Dawn's hanging decorations, you will also find these original, hand carved and printed linocut limited editions of only 100. For the first time this quirky artwork is available as a digital print in a choice of A4 or A3 size ready for you to place in a ready-made frame of your choice.
£16.50 for A4 and £20 for A3 from Biscuit Press Designs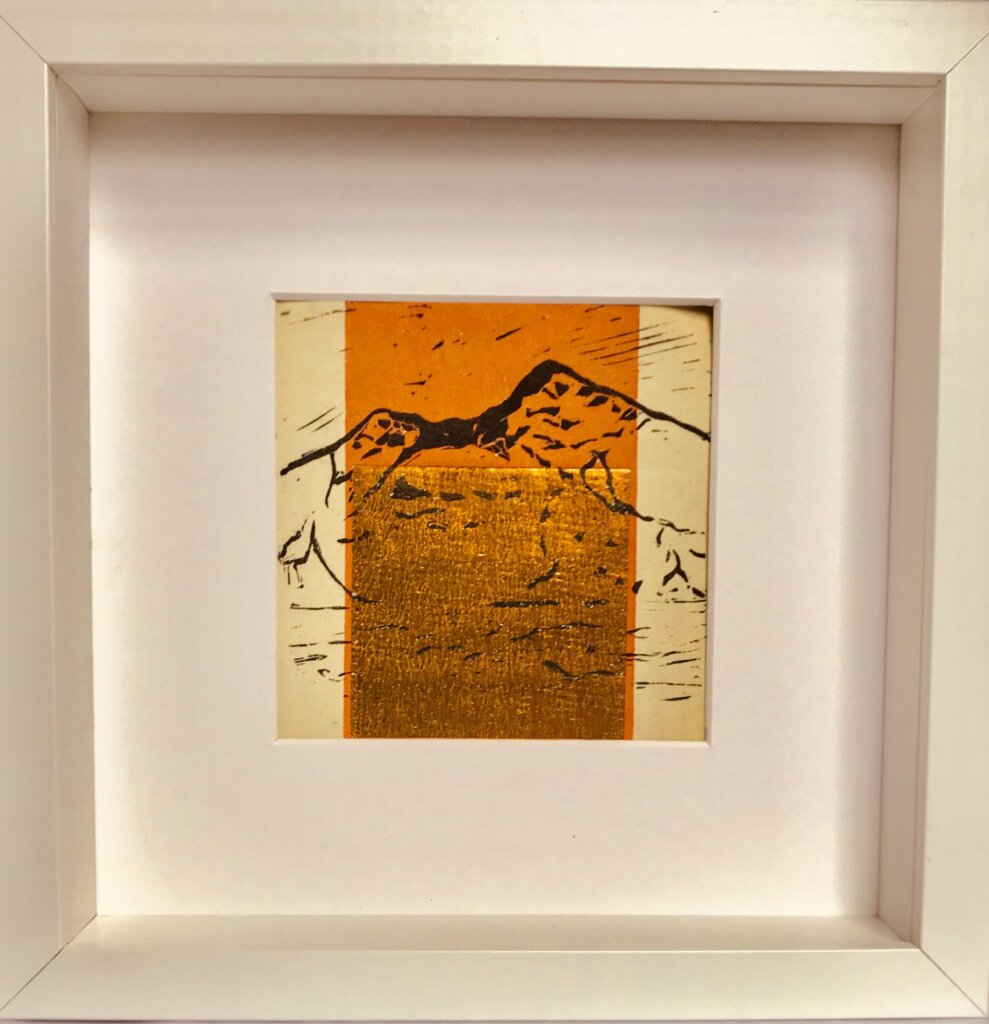 Ben More PrintThis original Lino print by another local Tobermory artist, Alicia, is of Ben More, the Isle of Mull's only munro. The artwork is mounted, signed and in 25x25cm frame. Alicia studied at The Glasgow School of Art and has a studio on Tobermory Main Street overlooking the bay.
£45 from Tobermory Art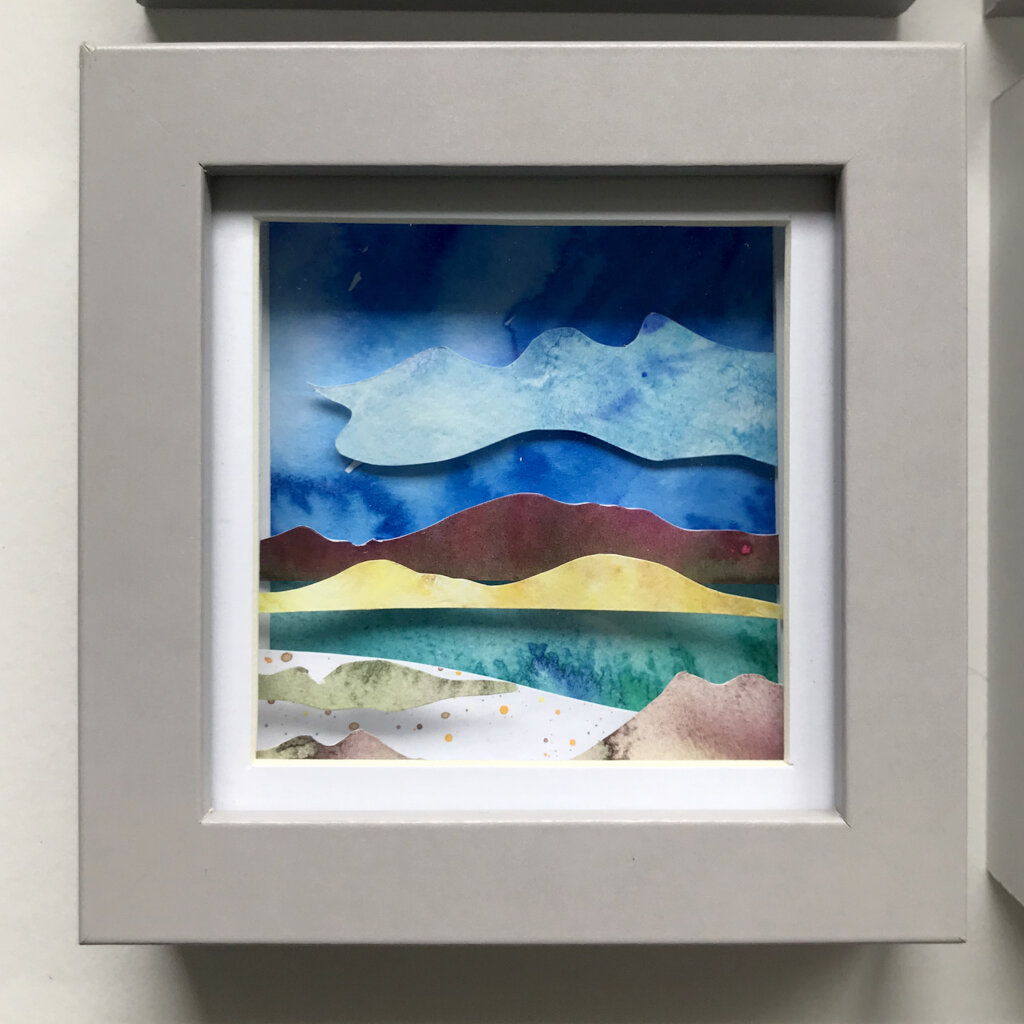 Framed Watercolour Tunnel 'books'Toben is a bibliopegist who runs Baile Mor Books, a book design studio and bindery based on the Isle of Iona. Each of these framed 'books' are made by hand-cutting individual the pieces from watercolour paper that are individually toned and textured. All the pieces are then layered up using the folded structure along the sides before being secured in the box frame. Each one is entirely unique.
£54 from Baile Mor Books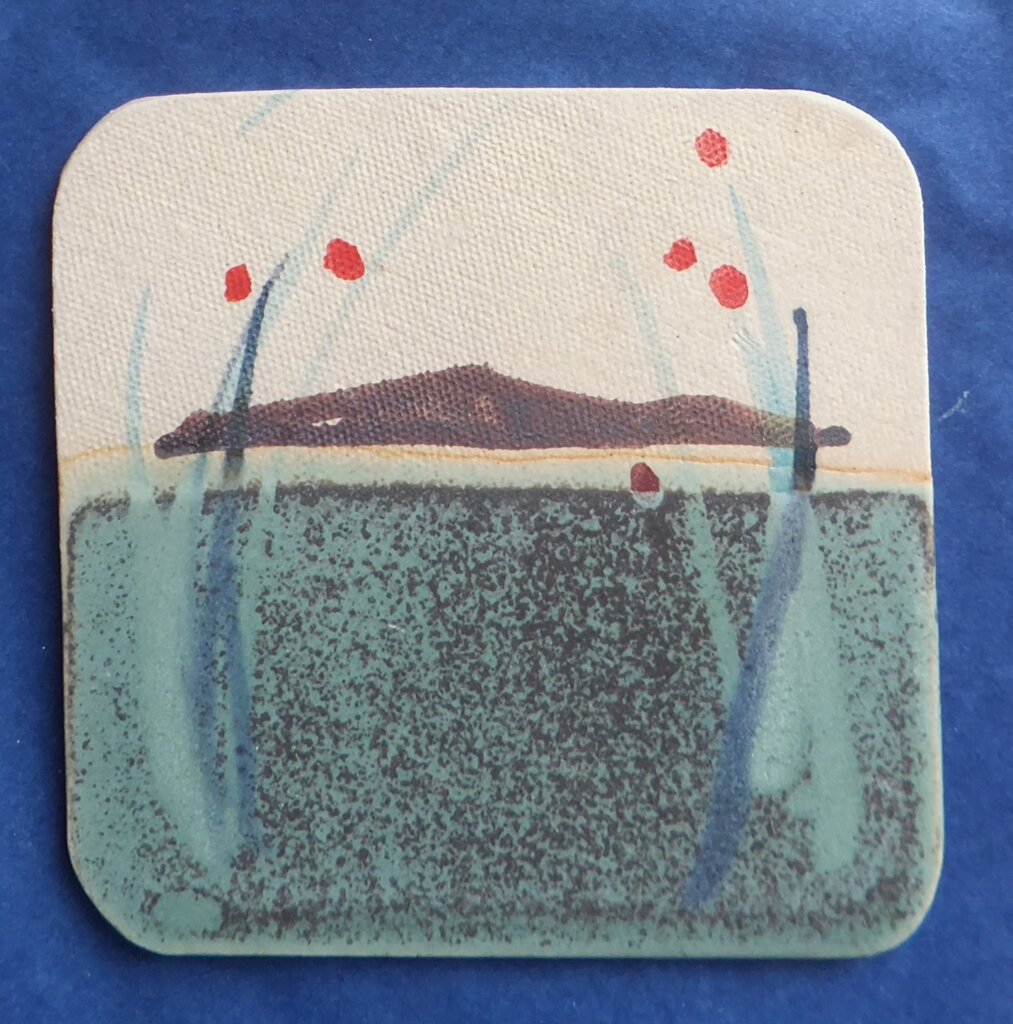 Island CoastersJulie is a ceramic artist from Fionnphort in the Ross of Mull. She make ceramics inspired by buildings and landscapes using silky blue and green glazes to contrast with the texture of the stoneware clay to invoke the natural and man-made environments of the coast. This handmade stoneware ceramic coaster decorated with an Islands design and part green glazed.
£12 from Julie Ward Ceramics
Barry is a woodturner from Gruline and enjoys repurposing reclaimed wood. This pen has been created from a Tobermory Whisky oak cask and you'll be reminded of Tobermory whisky every time you use it.
£36 from Mullcraft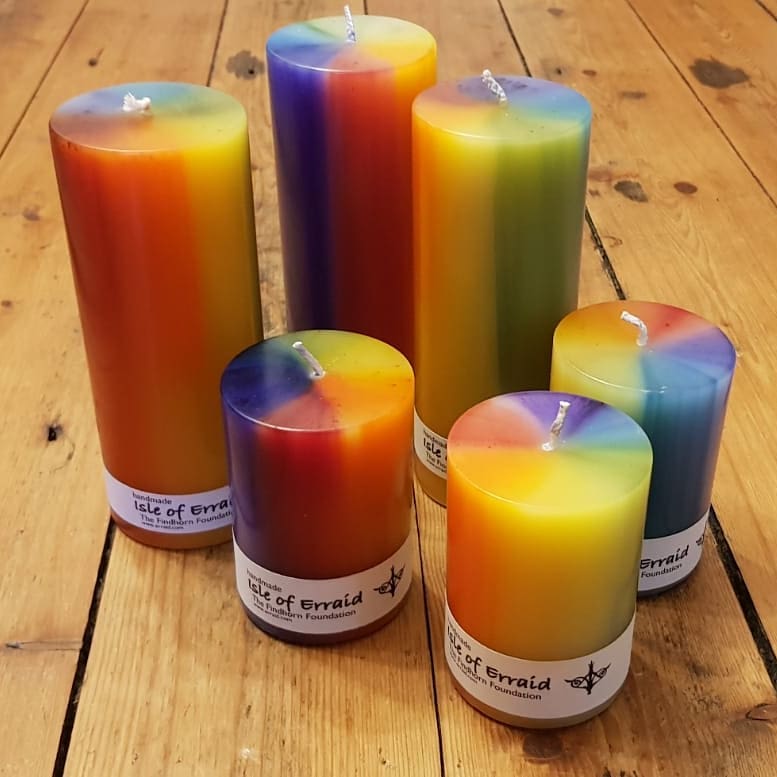 Isle of Erraid Rainbow CandlesErraid is a small island off of Fionnphort, only accessible on foot when the tides are low. Candles have been made by the Erraid Community for over 30 years. Every single candle is lovingly made by hand and each one is unique in its colour combination. Their most popular range are the Rainbow Candles inspired by the many rainbows enjoyed with the ever-changing west coast weather and mirroring the colours of the chakras.
£8.75 – £12.50 from Erraid Community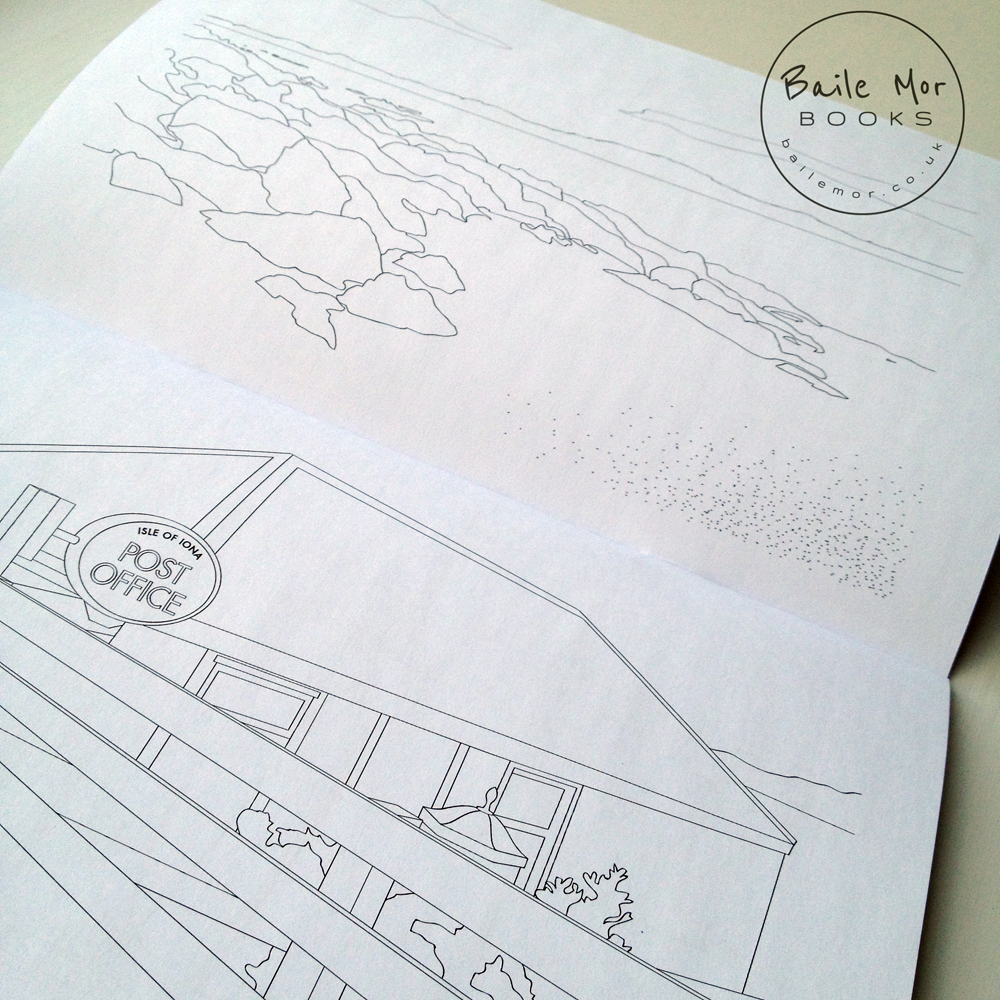 Isle of Iona Colouring BookSome more interesting work from Toben which both children and adults will enjoy! Colouring book illustrated and based on the famed holy island of Iona, in the Scottish Hebrides.
£4 from Baile Mor Books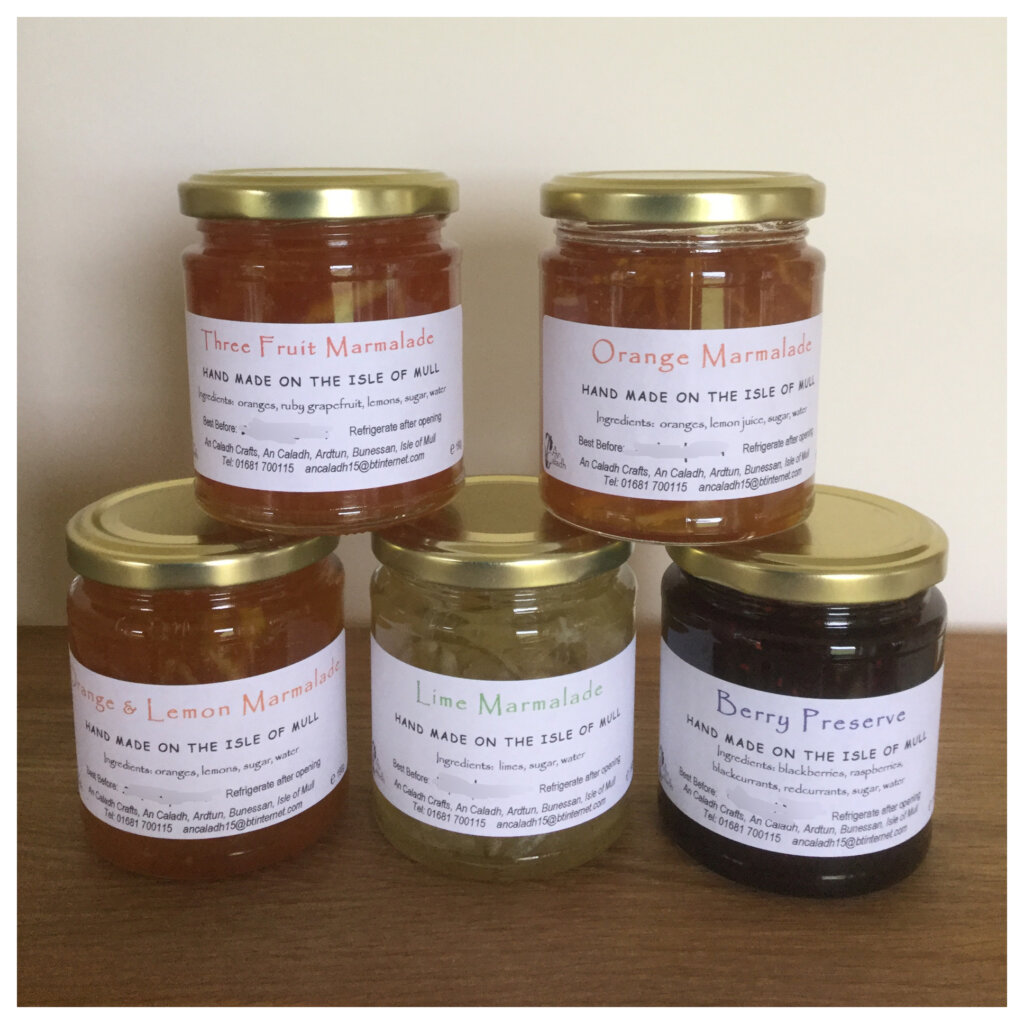 Isle of Mull Marmalade and PreservesHusband and wife, Martin and Marilyn from Ardtun have set up An Caladh Crafts. Marylin makes delicious marmalades and preserves are handmade on the Isle of Mull using all-natural ingredients.
£14 for 4 jars from An Caladh Crafts
Thank you to Chloe McFadden from The Mull and Iona Shop for writing this guest blog post.